Friday, October 7 at 5pm
Author Patricia Crisafulli will join us to launch her new book The Secrets of Ohnita Harbor.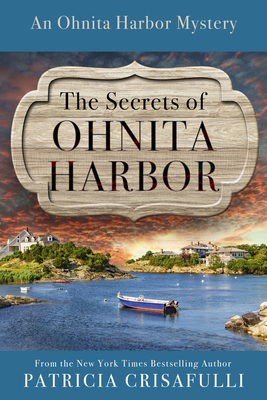 About the book: Amid a mountain of rain-soaked donations to the Ohnita Harbor Public Library rummage sale, Gabriela Domenici finds a small box that contains an odd-looking cross. When the carved center turns out to be ivory and a clue links the cross to Catherine of Siena, a medieval saint, Gabriela turns to her expertise as an authenticator of historic documents to lead the quest to discover the truth about this mysterious object. But the cross isn't the only secret in town: first, a beloved Ohnita Harbor resident is found floating in the harbor and then someone else is murdered on the library lawn. As Gabriela races to solve the mystery of the cross, she discerns between infatuation and what could be the start of true love. All the while, she must stay one step ahead of the danger that slowly encircles her.
About the author: Patricia Crisafulli is an award-winning author. She received a Master of Fine Arts (MFA) degree from Northwestern University, where she received the Distinguished Thesis Award in Creative Writing. She also received the grand prize for fiction from TallGrass Writers Guild/Outrider Press for a story published in its anthology, Loon Magic and Other Night Sounds, for which she was also nominated for a Pushcart Prize. Patricia is the author of a collection of short stories and essays titled Inspired Every Day: Essays and Stories to Brighten Your Day, Give You Hope, and Strengthen Your Faith, published by Hallmark, and is also the founder of FaithHopeandFiction.com, a popular e-literary magazine that features original fiction, essays, and poetry.