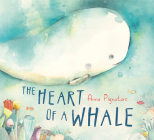 $17.99
ISBN: 9781984836274
Availability: Usually Ships in 1-5 Days
Published: Philomel Books - January 28th, 2020
In this beautiful story of kindness and empathy, loneliness and love, one creature finds that the help he needs is just a song and a sigh away.

---

$17.99
ISBN: 9781534415744
Availability: Usually Ships in 1-5 Days
Published: Simon & Schuster Books for Young Readers - May 14th, 2019
Jessica Lanan's dreamy and dramatic watercolor paintings bring to life a wordless story about wonder in the natural world.

A fisherman takes his son for a trip out on the water. When they encounter a whale entangled at sea, they realize a connection that transcends the animal kingdom.
---

$18.99
ISBN: 9781338312263
Availability: On Our Shelves Now
Published: Orchard Books - October 1st, 2019
Caldecott Honor winner Elisha Cooper invites readers to grab their oars and board a canoe down a river exploration filled with adventure and beauty.

---

$17.99

ISBN: 9781524717988

Availability: Usually Ships in 1-5 Days

Published: Random House Books for Young Readers - April 2nd, 2019

Books, libraries, and Patience and Fortitude, the stone lions in front of the NYC Public Library's main branch: this stunning picture book has them all. A young boy is disappointed to receive a book for his birthday; he prefers toys and games. That night he's awakened by deep purring beneath his window. It's Fortitude, who whisks him away to the library. The books there remind him of stories his late grandfather read to him, and they magically form an image of the old man. The boy's love of books returns before Patience carries him home. The last spread, which I won't spoil, will elicit a shiver, tears, or both.

-Banna

---

$17.99

ISBN: 9781492635581

Availability: Usually Ships in 1-5 Days

Published: Sourcebooks Jabberwocky - September 5th, 2017


Max is back! With minimal illustration and vibrant color, Vere teaches children about persistence, dreams, manners and learning, but most of all, about friendship. Max chases Bird but also wants to befriend him. Bird wants to learn to fly, and after spending weeks studying books from the library, they both give it a try. In the world of picture books, Max is here to stay. A delightful read that will put a smile on everyone's face!

- Mindy

---

$17.99

ISBN: 9781492656807

Availability: On Our Shelves Now

Published: Sourcebooks Wonderland - June 4th, 2019

Moon's First Friends is a "lesson" on our changing earth and its occupants, told through the eyes of a lonely Moon. Author Susanna Leonard Hill, combined with Elisa Paganelli's colorful illustrations, cleverly teaches kids about eclipses, phases of the Moon, gravity and finally components of the historic Apollo 11 space voyage – the rocket, its astronauts and their space suits. The Moon finally has some visitors! And readers will get an extra bonus ­– scan the two QR codes to listen to the actual countdown and to hear Armstrong's first words on the Moon! A terrific commemorative to one of the greatest events in American history. Ages 4 and up.

- Mindy

---

$18.99

ISBN: 9780316187480

Availability: Usually Ships in 1-5 Days

Published: Little, Brown Books for Young Readers - April 2nd, 2013

Laszlo is afraid of the dark.

The dark lives in the same house as Laszlo. Mostly, though, the dark stays in the basement and doesn't come into Lazslo's room. But one night, it does.

This is the story of how Laszlo stops being afraid of the dark.

With emotional insight and poetic economy, two award-winning talents team up to conquer a universal childhood fear.




---

$17.99

ISBN: 9780763655983

Availability: Usually Ships in 1-5 Days

Published: Candlewick - September 27th, 2011

A New York Times Best Illustrated Children's Book of 2011!

A picture-book delight by a rising talent tells a cumulative tale with a mischievous twist.


---

$17.99

ISBN: 9780763655990

Availability: Usually Ships in 1-5 Days

Published: Candlewick - October 9th, 2012

The 2013 Caldecott Medal winner!

From the creator of the #1 New York Times best-selling and award-winning I Want My Hat Back comes a second wry tale.


---

Email or call for price.

ISBN: 9780375862267

Availability: Special Order

Published: Schwartz & Wade - April 24th, 2012

When a wonderful new book arrives at the library, at first it is loved by all, checked out constantly, and rarely spends a night on the library shelf. But over time it grows old and worn, and the children lose interest in its story. The book is sent to the library's basement where the other faded books live.

---

$17.99

ISBN: 9781452173184

Availability: Usually Ships in 1-5 Days

Published: Chronicle Books - August 27th, 2019

The brilliant follow-up to the Caldecott Honor-winning and New York Times bestselling picture book They All Saw a Cat by Brendan Wenzel!

A Stone Sat Still tells the story of a seemingly ordinary rock—but to the animals that use it, it is a resting place, a kitchen, a safe haven...even an entire world.


---

$17.99

ISBN: 9780062680075

Availability: On Our Shelves Now

Published: HarperCollins - October 1st, 2019

*** #1 Amazon Bestseller ***


** Four starred reviews **

* A Publishers Weekly Best Children's Book of 2019 *

---

Email or call for price.

ISBN: 9780399168093

Availability: Backordered

Published: Philomel Books - February 16th, 2016

A lyrically told, beautifully illustrated book that brings comfort to children--and adults--who have lost someone they love


---