I Love You All, Please Leave: Essays on COVID Lockdowns and Psych Lockups (Paperback)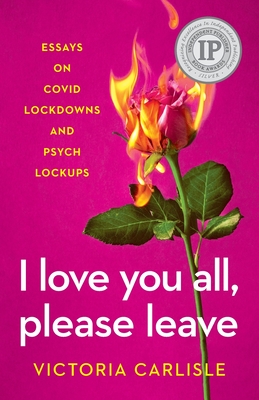 $15.99

Usually Ships in 1-5 Days
Description
---
Candid, hilarious, and relatable, I Love You All, Please Leave is a whip-smart essay collection on motherhood and mayhem during the COVID-19 lockdown.
Victoria Carlisle, a British expat living in Oakland, California, is a zaftig housewife and unapologetically relaxed parent. More than a decade ago, Carlisle was psychiatrically committed six times after the birth of her third child. (They had to let her out eventually.) And in 2020, she and her family-one husband, two guinea pigs, and three kids-endured one of the longest COVID school shutdowns in America. (They had to allow the children back at some point.)
With Carlisle's irreverent humor, I Love You All, Please Leave is a provocative essay collection that revels in the hilarity of small moments during the coronavirus pandemic. Carlisle recounts her spectacular failures in mothering during lockdown-from an inability to "Zoom School" (What the fuck was that all about?) to including a Sexy Lady Santa outfit among Amazon purchases of hand sanitizer and cereal ("Mummy, you'll look like a stripper ").
Both COVID and psychiatric lockdowns shut Carlisle up in little rooms and left her with a mind like a trapped bird fluttering behind a window. Her long journey from insanity to health traversed the well-trodden Berkeley landscape of alternative medicine-with a pit stop at electromagnetic headbands and keto diets-eventually landing at lithium and self-acceptance.