Stock Market Investing For Beginners: Learn The Basics Of Stock Market Investing And Strategies In 5 Days And Learn It Well (Paperback)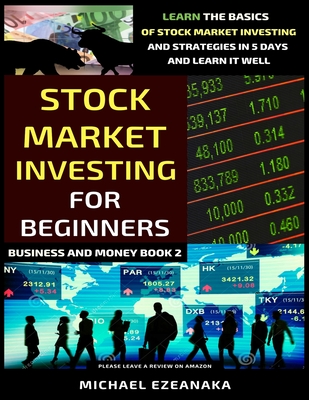 $14.99

Usually Ships in 1-5 Days
(This book cannot be returned.)
Description
---
This Guide Will Help You Understand The Fundamentals Of Stock Market Investing And Strategies In 5 Days..
Do you want to discover how to create real wealth in the stock market?
Do you want to discover how to create passive income and retire early?
Do you want to discover how to trade stocks and avoid costly mistakes that beginners make?
Do you want to discover how to create financial freedom and live the life you deserve?
...If you answered yes to the above questions, then you NEED this book.
In this book, Amazon Bestselling author, Michael Ezeanaka explains in very simple terms how the stock market works and different profitable strategies you can leverage to not only grow but also protect your investment capital.
Whether you are a newcomer to investing or a veteran looking for a fresh perspective, you will enjoy the unique and practical strategies for investing success covered in this Guide.
In this book, you'll discover:
Ingenious ways you can tell when a company stock is overvalued
7 questions you need to ask before you invest in a company's stock?
The impact of aggressive central bank policies on your portfolio (Do you buy, hold or sell)?.
Why is it difficult to expand your stock portfolio if you choose to become a preferred stockholder?
What do you need to consider before you open a brokerage account?
How you can save 57% more money using a traditional IRA account?
What investment vehicle is perfectly suited to stay at home mums/dads?
A detailed analysis of stock investment strategies including value investing, dividend investing, day trading and growth investing?
How Jeff Bezos and Jack Ma capitalised on the Black Swan effect and how YOU can do the same?
How to spot red flags in your broker statement?
Why it's important you keep the original copy of your trade confirmations?
How you can control the exact price at which you buy a stock?
A special kind of order that helps you to maximise your profits while minimising your losses?
How to use macroeconomic and microeconomic analysis to determine if a stock is a good investment?
How to tell if a company's management team is on the side of the shareholders or not?
...and much, much more
The key insights of Warren Buffet and Peter Lynch all play important roles in this seminal investment resource. But unlike most of today's books on investing, this guide is as simple as it is comprehensive.
If you're ready to tackle the above questions, I'm ready, scroll to the top of this page, click the "Buy Now" button and lets get started
Please Note - The Investment Vehicles discussed in this book are based on the USA stock market. However, the investment principles can be applied all over the world