Hacking For Beginners: Discover Secrets Of Underground Hacking And Penetration Testing And Learn How To Keep Your Own Network Safe (Paperback)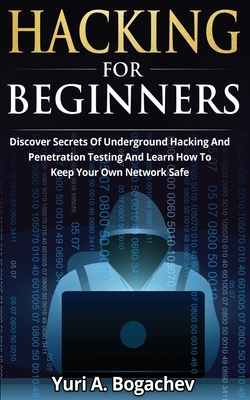 $13.99

Usually Ships in 1-5 Days
Description
---
Do you want to keep your personal data safe from prying eyes?
Do you want to look behind the scenes of major attacks and hacking incidents?
Do you want to keep your own computer and the network safe from hacking attacks?
The world of hacking has often gotten a bad reputation thanks to the individuals who are unscrupulous with the work they do. But there are many ethical hackers out there, those who use it to keep their own personal information safe and sound and will ensure that they can keep others safe as well.
If you fit into this final group, then this guidebook is for you. It is going to contain all of the information, techniques, and methods that you need to use in order to start your own ethical hacking adventure today.
Whether you want to create some of these projects for your own needs or use it to further your career in cybersecurity, this guidebook is going to have all of the information that you need to get started.
Some of the different topics that we are going to explore when it comes to working in this guidebook include:
The essence and key concepts behind penetration testing and ethical hacking
How to map out some of the hacks that you would like to do and get a better idea of your own network or the network you would like to target
How to crack passwords and why this is so important to learn more about
Insidious spoofing attacks that are used to fool potential targets
How penetration testers handle various network connections and what they do to get onto some, even if they don't have access
How they hide and find IP addresses
Other attacks that hackers like to work with including denial of service, malware, social engineering, phishing, and more
How keyloggers are created and why screenshot tools play a crucial role in it
Some of the best tips and tricks that you are able to follow to ensure that your network will always remain safe and easy to use
And much, much more.
The world of cybersecurity is quickly changing. And being able to understand how hacking works will make it easier for you to protect your own computer network and stand out as a "cyber-savvy" employee, executive or company owner.
So, if you want to deep-dive into the world of hacking and learn how to protect your information systems, then grab your copy now