Print Formats and Finishes: The Designer's Illustrated Guide to Brochures, Catalogs, Bags, Labels, Packaging, and Promotion (Paperback)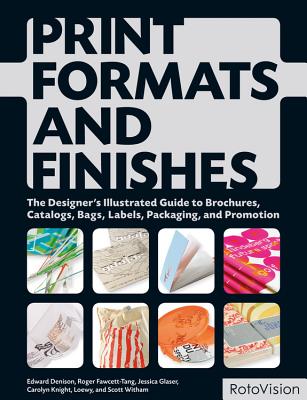 $25.00
Email or call for price
Description
---
Print Formats and Finishes is a comprehensive resource on formats, materials and finishes. This book explores the production and manufacturing aspects of a range of products including CD and DVD packaging, bags and labels, brochures, sustainable design products, product packaging, and promotional items. With succinct text and specially commissioned photos it shows, at one glance, the effects that can be created and the printing and production techniques used to achieve them. Work across all budgets and production/print runs is showcased, revealing the skills and techniques that allow creative solutions that grab audience attention and sell.
For ideas on everything from mass-mail flyers, unique CD packaging, to customized products and packaging, The Print and Production Finishes Sourcebook is an indispensable ideas sourcebook and practical guide. By analyzing the best in the business, it gives readers a thorough understanding of materials, and of print and production processes that can be applied to any job.
About the Author
---
Edward Denison is an award-winning design and planning consultant, with an expertise in packaging and sustainable design. He lives in London, UK.Roger Fawcett-Tang is a graphic designer and founder of internationally renowned Struktur Design. He has written/designed many books for RotoVision, including Mapping and the highly successful Experimental Formats.Jessica Glaser is a partner at the design company Bright Pink and also holds a post at the University of Wolverhampton. She is the co-author of Sticky Graphics and Create Impact with Type, Image & Color.Jessica Glaser and Carolyn Knight, designers with many years of experience, are both enthusiastic about design methodologies and visual appreciation. They run a design company, Bright Pink, and hold posts within the Graphic Communication department of the University of Wolverhampton. Carolyn has undertaken postgraduate studies in Communications Management.Together they have written and designed two books: Layout: Making it Fit (Rockport, 2003), and The Graphic Designer's Guide to Effective Visual Communication.Loewy is a London-based agency with a broad consumer and corporate client base. Founded by Raymond Loewy in 1929, Loewy has been responsible for iconic work such as the design of the Coke bottle, the Greyhound bus, and the Shell logo, and more recently has designed more than 500 books for a variety of publishers. The staff at Loewy, who authored/designed this book, are also the author/designer of The Best of Brochure Design 7, 1,000 Graphic Elements, and 1,000 Type Treatments.Designer Scott Witham, who has worked for global clients including Sony, Virgin, Orange, Bacardi-Martini Ltd., and the Royal Bank of Scotland, is the creative director of his own company, Traffic Design Consultants in Glasgow. He is also the author of Festive: The Art and Design of Promotional Mailing.