How to Get Married (Hardcover)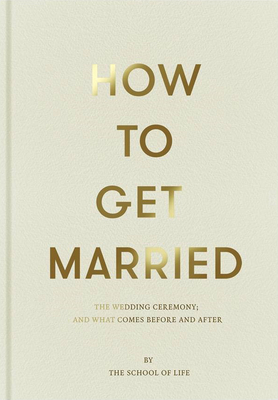 Description
---
A bold rethinking of the wedding ceremony - and what comes before and after - designed to prepare us for modern marriage.
Many couples today feel uncomfortable with the rituals traditionally associated with getting married. The old ceremonies can feel too overtly religious and out of step with the complexities of contemporary relationships. In response to this dilemma, The School of Life has rethought the ideal wedding day and redesigned the entire process from scratch. The book begins by proposing new methods of psychological preparation, providing practical advice on how to prepare not only for the day of the wedding, but for the long marriage that follows. Also included is a practical and thoughtfully redesigned wedding ceremony, covering everything from picking a venue to writing vows and selecting readings. With their trademark wisdom and warmth, The School of Life presents a bold rethinking of one of humankind's most important and popular rituals.
AN OUTLINE FOR A NEW KIND OF WEDDING CEREMONY: based on psychological theory rather than religious traditions.
INCLUDES PRACTICAL INSTRUCTION: for marriage preparation, as well as advice for married life.
INNER POCKET CONTAINING ORDER OF SERVICE BOOKLET: (including suggested vows and readings) and emotional prenuptial contract.
GENDER NEUTRAL: and non-heteronormative.
BEAUTIFULLY PRODUCED: high end gift format. Royal-blue cover and page trim, gold foil embossed title, blue endpapers and gold ribbon.
ILLUSTRATED: with full color images.
About the Author
---
The School of Life is a global organization helping people lead more fulfilled lives. Through our range of books, gifts and stationery we aim to prompt more thoughtful natures and help everyone to find fulfillment.The School of Life is a resource for exploring self-knowledge, relationships, work, socializing, finding calm, and enjoying culture through content, community, and conversation. You can find us online, in stores and in welcoming spaces around the world offering classes, events, and one-to-one therapy sessions. The School of Life is a rapidly growing global brand, with over 7 million YouTube subscribers, 389,000 Facebook followers, 174,000 Instagram followers and 166,000 Twitter followers. The School of Life Press brings together the thinking and ideas of the School of Life creative team under the direction of series editor, Alain de Botton. Their books share a coherent, curated message that speaks with one voice: calm, reassuring, and sane.