A Song for a New Day (Paperback)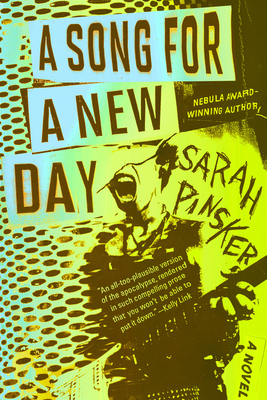 Staff Reviews
---
In the near future, avoiding human interaction is normal. After bombings and shootings leave thousands dead, the U.S. outlaws public gatherings. Technology, including virtual reality hoodies, allows people to live in their own homes where, they believe, they'll be safe. Luce, a musician now out of a job, discovers an illicit network of live venues, and opens her own underground club. Rosemary is a young woman who doesn't remember a time before gatherings were illegal. Her schooling, shopping and dating have all been virtual. She's an artist recruiter for StageHoloLive, the company that organizes virtual concerts. She tries to convince Luce to be a SHL entertainer, but their contact leads to the destruction of 2020. Rosemary's determination to right this wrong leads to a cautious collaboration with Luce, and they plan a subversive live concert where, hopefully, the rallying cry of "Don't forget normal" will be heard.
-Cindy
— From
Cindy's Recs 2
Description
---
In this captivating science fiction novel from an award-winning author, public gatherings are illegal making concerts impossible, except for those willing to break the law for the love of music, and for one chance at human connection.

In the Before, when the government didn't prohibit large public gatherings, Luce Cannon was on top of the world. One of her songs had just taken off and she was on her way to becoming a star. Now, in the After, terror attacks and deadly viruses have led the government to ban concerts, and Luce's connection to the world--her music, her purpose--is closed off forever. She does what she has to do: she performs in illegal concerts to a small but passionate community, always evading the law.

Rosemary Laws barely remembers the Before times. She spends her days in Hoodspace, helping customers order all of their goods online for drone delivery--no physical contact with humans needed. By lucky chance, she finds a new job and a new calling: discover amazing musicians and bring their concerts to everyone via virtual reality. The only catch is that she'll have to do something she's never done before and go out in public. Find the illegal concerts and bring musicians into the limelight they deserve. But when she sees how the world could actually be, that won't be enough.
About the Author
---
Sarah Pinsker's Nebula and Sturgeon Award-winning short fiction has appeared in Asimov's, F&SF, Uncanny, Strange Horizons, as well as numerous other magazines, anthologies, year's bests, podcasts, and translation markets. She is also a singer/songwriter who has toured nationally behind three albums on various independent labels. Her first collection, Sooner or Later Everything Falls Into the Sea, was released in early 2019 by Small Beer Press. This is her first novel. She lives with her wife in Baltimore, Maryland.
Praise For…
---
Publishers Weekly's "Most Anticipated Books of Fall 2019"

"An all-too plausible version of the apocalypse, rendered in such compelling prose that you won't be able to put it down...a lively and hopeful look at how community and music and life goes on even in the middle of dark days and malevolent corporate shenanigans."—Kelly Link, Pulitzer Prize finalist and author of Get In Trouble

"You'd better keep a copy of A Song for a New Day with you at all times, because this book will help you survive the future. Sarah Pinsker has written a wonderful epic about music, community, and rediscovering the things that make us human. Pinsker has an amazing ear for dialogue, a brilliant knack for describing music, and most importantly a profound awareness of silence, in both its positive and negative aspects. A Song for a New Day restored some of my faith in community, and I didn't even realize how much I needed this book right now." –Charlie Jane Anders, national bestselling author of All the Birds in the Sky and The City in the Middle of the Night

"Experiencing Sarah Pinsker's A Song For a New Day is like listening to a fine, well-rehearsed song unleashed live. It's a deeply human song of queer found family and the tension between independence and belonging, thoughtful and raw like the best live music. It's also a cautionary tale of what happens when we privilege convenience over connection. If you love performance—the magic of head-thrown-back ecstatic musical communion—read this book."—Nicola Griffith, author of Hild

"A compelling book about the importance of music--and any sort of art--in a world where it seems like the least essential thing. This is an expertly drawn post-catastrophe world peopled by compassionately written characters."—Ann Leckie, Hugo Award winning author of Provenance

"Establishes [Pinsker] as an astonishingly impressive writer of day-after-tomorrow SF…This tale of hope and passion is a remarkable achievement."—Publishers Weekly (starred review)

"A post-apocalyptic tale about the power of art and the urgency of human connection...cements Pinsker's status as a rising star in the world of speculative fiction. A gorgeous novel that celebrates what can happen when one person raises her voice."—Kirkus (starred review)
 
"Pinsker's first novel is a riveting and plausible look into what our world could be if we become consumed with fear and dependent on social media. It is also a love letter to live music and underground shows, imagining futuristic musical innovations and the punk rebel scene that could emerge in response to a closed-off world."—Booklist (starred review)

"Pinsker's first novel depicts a moving alternate future in which technology provides everything a person could want, except human contact. Themes of virtual reality, humanity, and music are threaded throughout this melodic story."—Library Journal (starred review) 

"This is an amazing story about music, finding oneself and one's purpose, while at the same time, touching on many of the issues that we are starting to see in everyday life, the addiction to devices, in particular. … The characters are strong and likeable, the descriptions of places where people play are vivid and detailed. A book I highly recommend!"—The Nerd Daily

"A Song For a New Day is amazing. Pinsker has one of the strongest voices for character in fiction today; everything her characters do is compelling. Pinsker accomplishes a scary look at a future and still gives us comfort within it. She helps us remember that the world isn't over yet, after all."—Mur Lafferty, author of Six Wakes

"Woven through Pinsker's meticulously crafted future of technology-enabled isolation and corporate-consumerist powerlessness is a stirring anthem against the politics of fear. A dazzling tale told in multiple voices, with not a single note out of place. This is the lyrical protest song that we have always needed, perhaps more so now than ever."--Ken Liu, author of The Grace of Kings

"Sarah Pinsker shares an unsparing vision of a near-future world only a few degrees removed from our own, but has the nerve and audacity to leaven the darkness with hope.  A powerful novel whose unforgettable characters channel humanity's true superpowers: art and the act of creation. " —  Elizabeth Hand, author of Curious Toy and Generation Loss

"A Song for a New Day is a compulsively readable story about music, freedom, taking chances, and living with your past. I meant to read it slowly, savoring Pinsker's near-future world-building and her perfect descriptions of performance, but I ended up gulping it down, so eager to see what happens next for Luce and Rosemary, each brave and resourceful in her own way."—Kij Johnson, author of The Dream-Quest of Vellitt Boe

"Sarah Pinsker plays genre like a favorite guitar, and I am in awe of her talents. How can a writer so new be so central, so necessary?"—Andy Duncan, author of An Agent of Utopia

"A full-throated call to arms in the service of music, creation, and shared experience, A Song for a New Day resists both extremes and easy tropes, offering hope in the face of catastrophe through the engrossing stories of characters you'll want to spend more time with."—Malka Older, author of Infomancy

"Let freedom ring in the growl of an angry guitar chord! Sarah Pinsker's A Song For a New Day is an absorbing tale of a quiet, all-too-believable American dystopia in which a passion for music becomes the secretive, surprising seed of rebellion."—Linda Nagata, Nebula Award winning author of The Last Good Man

"A Song for a New Day is a must-read from a new voice you won't forget."--Sam J Miller, author of Blackfish City 

" Sarah Pinsker imbues her long-awaited debut novel with heart, humor, dystopian horror, and a probing look at the reality and unreality of pop stardom."—Jason Heller, author of Strange Stars: David Bowie, Pop Music, and the Decade Sci-Fi Exploded

Praise for Sarah Pinsker's short fiction:

"A beautiful, complex debut collectoin… Pinsker's captivating compendium reveals stories that are as delightful and surprising to pore through as they are introspective and elegiac."—Publishers Weekly on Sooner or Later Everything Falls Into the Sea (Starred review)

"Pinsker has delivered a sturdy collection in the speculative tradition of Ursula K. Le Guin and Kelly Link but with her own indomitable voice front and center. An auspicious start to what promises to be one wild ride of a literary career."—Kirkus Reviews on Sooner or Later Everything Falls Into the Sea