The Silence in Her Eyes: A Novel (Hardcover)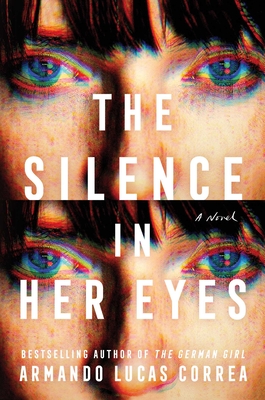 $27.99

Coming Soon - Available for Pre-Order Now
Staff Reviews
---
AVAIL. 1/16/24
Stop for a moment and close your eyes. Try to figure out what is going on around you by experiencing the smells. . . the sounds. These two senses are important to Leah, as her moving world is a blur; she has akinetopsia. But who is real in her world: the doorman, the neighbor and her abusive husband, the bookseller, the doctor? Just when you think you have figured out the mysteries of Leah's life, the author introduces yet another doubt-filled scenario. The Silence in Her Eyes is a clever mystery to the bitter end.
-MINDY
— From
Mindy's Recs
Description
---
In the vein of Paula Hawkins and Ruth Ware, a bold and suspenseful psychological thriller about a young woman with a rare neurological condition who is convinced her neighbor is going to be murdered.

Leah has been living with akinetopsia, or motion blindness, since she was a child. For the last twenty years, she hasn't been able to see movement. As she walks around her upper Manhattan neighborhood with her white stick tapping in front, most people assume she's blind. But the truth is Leah sees a good deal, and with her acute senses of smell and hearing, very little escapes her notice.

She has a quiet, orderly life, with little human contact beyond her longtime housekeeper, her doctor, and her elderly neighbor. That all changes when Alice moves into the apartment next door and Leah can immediately smell the anxiety wafting off her. Worse, Leah can't help but hear Alice and a late-night visitor engage in a violent fight. Worried, she befriends her neighbor and discovers that Alice is in the middle of a messy divorce from an abusive husband.

Then one night, Leah wakes up to someone in her apartment. She blacks out and in the morning is left wondering if she dreamt the episode. And yet the scent of the intruder follows her everywhere. And when she hears Alice through the wall pleading for her help, Leah makes a decision that will test her courage, her strength, and ultimately her sanity.
About the Author
---
Armando Lucas Correa is an award-winning journalist, editor, author, and the recipient of several awards from the National Association of Hispanic Publications and the Society of Professional Journalism. He is the author of the international bestseller The German Girl, which is now being published in seventeen languages and has sold more than one million copies; The Daughter's Tale; and The Night Traveler, for which he was awarded the Cintas Foundation Creative Writing Fellowship. He lives in New York City with his husband and their three children. Visit ArmandoLucasCorrea.com.



Praise For…
---
"Correa brings new life to the familiar Rear Window conceit, wrapping things up with a stunning finale that forces readers to reevaluate each character and their motives. Paula Hawkins fans will devour this." —Publisher's Weekly