Take Command: Find Your Inner Strength, Build Enduring Relationships, and Live the Life You Want (Dale Carnegie Books) (Hardcover)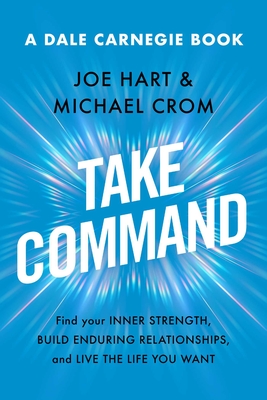 $27.99

Usually Ships in 1-5 Days
Description
---
Take command of your future with this groundbreaking, Wall Street Journal bestseller, from the experts who brought you How to Win Friends and Influence People.

Take Command offers powerful tools and time-tested methods to help you live an intentional life by transforming how you approach your thoughts, emotions, relationships, and future. Filled with stories of everyday people and based on expert research and interviews with more than a hundred high-performing leaders, Take Command gives you the strategies you need to unlock your full potential and create the life you want.

Written by Joe Hart (CEO) and Michael Crom (Board Member) of Dale Carnegie & Associates, Take Command is a modern manual for personal development that will help anyone, at any age. It is structured around questions geared to encourage self-reflection, such as:
-How do we use the power of mindset to deal with stress and anxiety, gain perspective on negative emotions, and build resilience?
-Once we understand our inner lives, how do we create enriching, rewarding, and enduring relationships?
-How do we deal with difficult people and manage conflict?
-After mastering our thoughts and relationships, how do we live courageously and intentionally to build a vision that will bring out the best in ourselves and other people?

For more than one hundred years, the wisdom of Dale Carnegie's How to Win Friends and Influence People has provided people around the world with richer, more fulfilling relationships and a happier way of life. Now, Take Command combines decades of Dale Carnegie's award-winning training and timeless principles—ones that have transformed the personal and professional lives of millions—into a master text that tells you everything you need to know about the art of human relations.
About the Author
---
Joe Hart is the CEO of Dale Carnegie & Associates. Since 1912, Dale Carnegie Training has helped millions of people and businesses around the world improve their performance. In over eighty countries and in more than thirty languages, the company applies Dale Carnegie's founding principles to inspire individual and organizational transformation, excellence, and success by tapping into each person's potential. Take command of your business performance, career, and your future by visiting DaleCarnegie.com to learn more.

Michael Crom is a Board Member of Dale Carnegie & Associates and is also Dale Carnegie's grandson.
Praise For…
---
"Powerful and practical! Breathing new life into Dale Carnegie's exceptional principals, Joe and Michael have created a new classic for this generation's leaders. Create the career and life you've dreamed of with Take Command!"
—Dr. Marshall Goldsmith, Thinkers50 #1 Executive Coach and New York Times bestselling author of The Earned Life, Triggers, and What Got You Here Won't Get You There

"I loved reading Take Command. It not only captures the spirit of Dale Carnegie's principles, which helped me so much in my career and life, but also the essence of my Working Together Management System – one that I used for over 40 years with tremendous success as the CEO of Boeing and Ford. Leadership starts with the leader's heart. It requires humility, love, service, confidence, and resilience. It involves putting people first, working together, and including everyone. Finally, it's about creating a compelling vision, inspiring others, and achieving amazing results together. Take Command is a blueprint that can help everyone lead with impact and live a happier and more fulfilling life. This is a must read!"
—Alan Mulally, former CEO of Ford and Boeing

"Take Command builds beautifully on the ideas in my fathers' books and takes those insights even further with innovative and effective ways to implement them. For those seeking inner strength, greater confidence, and truly meaningful relationships, Take Command will be an invaluable guide."
—Donna Dale Carnegie, Chairwoman, Board of Directors Dale Carnegie & Associates

"I wish I had this book when I was younger. It is the most insightful book I've read about managing my thoughts, building incredible relationships, and living the life I want."
—Dave Winfield, MLB Hall of Famer and New York Times bestselling author

"My dad and I have always been Dale Carnegie fans and I love how Take Command weaves Dale's wisdom with
current stories, powerful insights, and a new set of principles. A must read."
—Keith Ferrazzi, #1 NY Times Best Selling Author, Chairman of Ferrazzi Greenlight

"To take command of our future and our lives, we must first connect with our own inner space and take command of our thoughts, emotions, relationships and actions. This profound and life-changing book brings the Dale Carnegie magic alive again with powerful stories and a gripping well-researched narrative as it unravels the why, what and how of this process. In a practical and user-friendly way, the book equips and inspires us to unleash our fullest potential and live a life of purpose and meaning."
—Rajeev Dubey, Chairman Mahindra First Choice Wheels Limited

"Imbued with wisdom, Take Command is a roadmap to becoming the best version of yourself. By reframing change into opportunity, it teaches you how to emotionally free yourself from your greatest limitation: your own thoughts."
—Yasmin Davidds, Founder of Multicultural Women Entrepreneur and Leadership Institute

"Take Command provides a reflection on what we can control and, more importantly, a set of practical tools to use daily, to make it personal, and to own our path and destiny. You need to read and re-read this book—it's a practical tool that every individual should have by their side."
—Maria Paula Duque, Sustainability Lead Microsoft LATAM