Confidence: A Novel (Hardcover)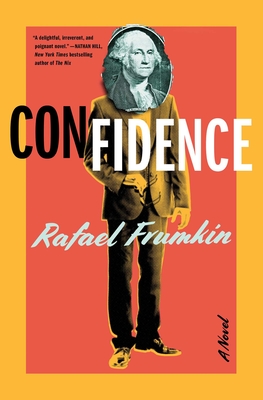 $27.99

Usually Ships in 1-5 Days
Staff Reviews
---
This queer heist novel is fiendish, funny, and a wild ride from start to finish. At 17, the too-sharp-for-his-own-good Ezra Green is sent to Last Chance Camp after selling knock off apparel and drugs at his highschool. It was supposed to straighten him out, but ends up introducing him to who would become his partner in crime and intermittent lover, the charming Orson. Over the next decade, the two create and expand NuLife, a corporation built on promises that sound too good to be true - and they are - but Ezra and Orson are the ultimate samming team, and they're out to get rich quick. At its heart, this novel is about obsession, both in money and romance, and the chaos that ensues when you reach too far for something - or someone - just out of grasp.
-Rachel
— From
Rachel's Recs
Description
---
"Theranos but make it gay." —Electric Literature

Best friends (and occasional lovers) Ezra and Orson are teetering on top of the world after founding a company that promises instant enlightenment in this "propulsive, cheeky, eat-the-rich page-turner" (The Washington Post) about scams, schemes, and the absurdity of the American Dream.

At seventeen, Ezra Green doesn't have a lot going on for him: he's shorter than average, snaggle-toothed, internet-addicted, and halfway to being legally blind. He's also on his way to Last Chance Camp, the final stop before juvie.

But Ezra's summer at Last Chance turns life-changing when he meets Orson, brilliant and Adonis-like with a mind for hustling. Together, the two embark upon what promises to be a fruitful career of scam artistry. But things start to spin wildly out of control when they try to pull off their biggest scam yet—Nulife, a corporation that promises its consumers a lifetime of bliss.

"Propulsive" (The New York Times Book Review) and "laugh-out-loud funny" (BuzzFeed), with the suspense of The Talented Mr. Ripley, the decadence of The Great Gatsby, and the wit of Succession, Confidence is a story for anyone who knows that the American Dream is just another pyramid scheme.
About the Author
---
Rafael Frumkin is a graduate of the Iowa Writers' Workshop and the Medill School of Journalism. His first novel, The Comedown, was published by Henry Holt in 2018, and his second novel, Confidence, was published by Simon & Schuster in 2023. He lives with his partner, two cats, and one dog in Carbondale, Illinois, where he is an assistant professor of creative writing at Southern Illinois University.
Praise For…
---
One of the Washington Post's 50 Best Works of Fiction of 2023

A New York Times Editors' Choice Pick

"CONFIDENCE skewers the rich in a most satisfying, clever way…. Ezra's acerbic narration skewers celebrity-led wellness influencing, empty-eyed business tycoons and Silicon Valley scammers with the merciless verve of an episode of Succession…. CONFIDENCE is a propulsive, cheeky, eat-the-rich page-turner to satisfy the craving for a well-crafted caper." —Casey McQuiston, Washington Post

"As this jaunty caper proceeds, one questions if Ezra is a flawed-yet-lovable underdog or a manifestation of moral decay. And of Ezra and Orson's relationship, a reader might ask, what's real, and what's smoke and mirrors? Those queries prompt you to keep turning the page."—Wall Street Journal

"Ezra is a clever narrator, brought to life by Frumkin in a knowing and well-paced first-person that gives "Confidence" the propulsive thrum of a tell-all." —New York Times Book Review

"Evocative of The Talented Mr. Ripley…. Frumkin has crafted a clever satire of how we're pulled toward shiny things and how it's possible to fly near the sun with no wings, with a final line that made me laugh out loud."—Seattle Times

"Theranos but make it gay. In this Ripley-esque romp, two men—occasional lovers—create a fake empire based entirely on their own charisma and an impossibly auspicious wellness product that promises bliss to those who use it." —Electric Literature

"A caper, a queer love story, and a takedown of both wellness culture and the American dream? Sold." —Lithub

"Frumkin follows up his critically acclaimed debut The Comedown with Confidence, a biting satire about a pair of friends who start a company that promises consumers instant enlightenment for the rest of their lives…. Over the course of the novel, as their hustles become increasingly complex, they veer closer and closer to a massive collapse from which they may never recover. "—New York Magazine's Vulture

"Laugh-out-loud funny in the way it unapologetically skewers capitalism, the 'American Dream,' and the wellness industry, Confidence is a wild ride and the perfect read for anyone who loves watching true crime documentaries." —Buzzfeed

"At once witty and wrenching." —Kirkus

"Destined to be a new LGBTQ classic of suspense!" —Crimereads

"In a world where well-heeled heels are arrested for cryptocurrency scams, squillionaires gleefully trash their own vanity projects and masters of the universe disgrace themselves over and over, Confidence's arrival is beyond timely." —Bookpage

"Confidence is an exuberant assault on contemporary wellness culture, a tale of con-men so talented they con even themselves. But it's also a very human story about the blind spots we all have, how our need for love and connection can sometimes lead us down all the wrong paths. A delightful, irreverent, and poignant novel."—Nathan Hill, New York Times bestselling author of The Nix

"A Gatsby for the 21st century, this book offers a satiric look at corporate-think, the desire for easy fixes, and the dissolution of the American Dream. Written with a dry, tongue-in-cheek wit, the novel also explores how the desire for love and connection can cause a kind of obliviousness. Perfect for fans of social satire and literary fiction."—Library Journal *starred review*

"A caper and a love story, a rollicking takedown of the absurdist proposition that is the American Dream, Confidence will seduce you with its characters, keep hold of you with its artfully constructed house of cards, and devastate you with the very human hunger and desire that still pulses underneath."—Lynn Steger Strong, author of Flight

"Confidence is a fabulous sendup of the American Dream, and our insistence it's still within reach despite all evidence to the contrary. A joyful ride to the top propelled by the knowledge of our hero's impending fall, half the fun is waiting for the other shoe to drop. The rest is in Rafael Frumkin's wit, clever narration, and undeniable pathos."—Julia Fine, author of The Upstairs House

"Confidence is a witty, scathing indictment of capitalist greed in all its forms—illegal or otherwise. This book takes no prisoners, least of all its sharply-drawn, unforgettable antiheroes. A thrilling and addictive read."—Micah Nemerever, author of These Violent Delights

"Rafael Frumkin's Confidence is the enthralling, unsparing, and incisive tale of two twinned, vexed love affairs: Ezra's with Orson, and America's with scamming and being scammed. This book will entertain you as much as an evening with a charismatic huckster, but unlike a huckster, it delivers what it promises and it won't cost you your life savings."—David Burr Gerrard, author of The Epiphany Machine

"Frumkin has done it again in this fiendishly funny takedown of the American Dream. Confidence is a Gatsby for our golden age of grifters."—Andrew Ridker, author of The Altruists

"Speeding toward doom with barely contained glee, Confidence is a scathing social satire that lets no one off the hook—titans of industry, New Age devotees, techie acolytes, suburbanites, revolutionaries, the Dalai Lama—here everyone falls victim to the scam of corporate awakening masquerading as true bliss. Get in the Hummer limo, make your micro-dose into a macro, and prepare to flip off the cliff in this propulsive supply-side joyride." —Mattilda Bernstein Sycamore, author of The Freezer Door

"Confidence is a beautifully written dark comedy that shines light on the failures of capitalism, greed, and the American Dream."—Okezie Nwoka, author of God of Mercy

"Exuberant…pulls off a queer take on the caper novel…. Frumkin's sharp observations and clever plotting echo the Theranos scandal and the NXIVM cult.... For the reader, the deception is thoroughly enjoyable."—Publishers Weekly

PRAISE FOR THE COMEDOWN:
"So good, so fully realized and meticulously, skillfully rendered. . . . Frumkin can write. . . .A book about crests and troughs, highs and comedowns, joys and brutalities -- about how easily our lives are wrecked, but also how powerfully we're able to survive and rebuild." —Nathan Hill, The New York Times Book Review

"At its core, The Comedown is about relationships and the joy and pain they bring. In that realm, and others, it's a resounding success."—The L.A. Review of Books