The Islander: My Life in Music and Beyond (Hardcover)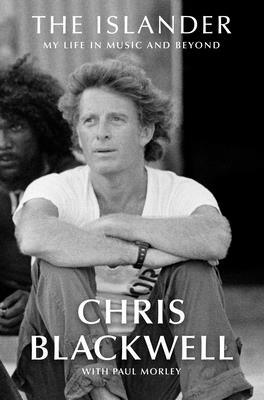 $28.99
Email or call for price/availability
Description
---
In the vein of Sound Man and The Soundtrack of My Life, a lyrical, warmhearted, and inspirational memoir from the founder of Island Records about his astonishing life and career helping to bring reggae music to the world stage and working with Bob Marley, U2, Grace Jones, Cat Stevens, and many other icons.

Chris Blackwell, like the paradigm-shifting artists he came to support over his sixty-plus years in the music business, never took the conventional route. He grew up between Jamaica and London, crossing paths with Ian Fleming, Noel Coward, and Errol Flynn. After being expelled from an elite British school for rebellious behavior in 1954 at age seventeen, he moved back to Jamaica, and within five years, founded Island Records—the company that would make an indelible mark on music, shifting with the times, but always keeping its core identity intact.

The Islander is the story of Blackwell and his cohorts at Island Records, who time and again, identified, nurtured, and broke out musicians who had been overlooked by bigger record labels, including Steve Winwood, Nick Drake, John Martyn, and Cat Stevens. After an impromptu meeting with Bob Marley and his bandmates in 1972, Blackwell decided to fund and produce their groundbreaking album Catch a Fire. He'd go on to work with Marley over the rest of his career, remain his close friend, and continually champion Jamaican culture and reggae music.

In the ensuing years, Blackwell worked with U2, Grace Jones, the B-52s, Tom Waits, Robert Palmer, Tom Tom Club, and many other groundbreaking artists. He also opened the first Jamaican boutique hotel, on the property of Ian Fleming's former home, Goldeneye, where all the James Bond books were written.

Blackwell is a legendary as well as deeply humble raconteur, and reading The Islander is like spending a day with the most interesting man in the world.
About the Author
---
Chris Blackwell is the founder of Island Records, a member of the Rock and Roll Hall of Fame, and is credited with being responsible for turning the world on to reggae music. Blackwell spent his childhood in Jamaica and founded Island Records at the age of twenty-two. He went on to forge the careers of Bob Marley, Cat Stevens, Grace Jones, and U2, among many other high-profile acts, and produced records including Marley's Catch a Fire and Uprising. Blackwell currently runs Island Outpost, a group of elite resorts in Jamaica, which includes Goldeneye—the former home of author Ian Fleming.

Paul Morley is a writer, broadcaster, and cultural critic who has covered music, art, and entertainment since the 1970s. A founding member of the electronic collective Art of Noise and a member of staff at the Royal Academy of Music, he is the author of a number of books about music including the bestselling The Age of Bowie and A Sound Mind: How I Fell in Love with Classical Music and Decided to Rewrite its Entire History. He collaborated with music icon Grace Jones on her memoir, I'll Never Write My Memoirs, and his two most recent books are biographies of Bob Dylan, You Lose Yourself, You Reappear, and Tony Wilson of Factory Records, From Manchester With Love.
Praise For…
---
"I read Chris Blackwell's autobiography in one sitting, unable to tear myself away. From 'My Boy Lollipop' and Bob Marley, via Swinging London and punk, and all the way to Talking Heads and U2, I felt like I was reading the inside story of the music of my life."
— Salman Rushdie, author of New York Times bestseller Quichotte

"C.B. had this way of throwing me in the deep end knowing that I would thrive on being challenged. As you'll read in The Islander he knows how to get the very best out of people – he's a mover and a shaker and a mischief maker."
— Grace Jones, author of New York Times bestseller I'll Never Write My Memoirs

"As you're about to find out through the pages in this book, Chris Blackwell – who looms large in U2's life, and was our lifeline into the music world – is an adventurer, an entrepreneur, a buccaneer, a visionary, and a gentleman. I'm proud to know him."
— Bono

"[Blackwell] is indisputably one of the greatest record executives in history. If you're even a minor fan of music books, stop reading this article and buy his autobiography, The Islander, which was written (beautifully) with Paul Morley — seriously, it's on the level of Elton John's Me and Patti Smith's Just Kids for all-time great music memoirs."
— Variety

"A highly entertaining, rapid-fire, hard-to-put-down memoir. The record producer/label founder/hotelier/film producer takes us on a rip-roaring ride through the 60s, 70s, and 80s, the most exciting years in popular music... The Islander is 320 pages long. I could have read 320 more."
—Air Mail

"The Islander, among its many pleasure, doubles as a firsthand history of the development of Jamaican music . . . [and] offers a vivid series of John Aubrey-esque 'Brief Lives' of Mr. Blackwell's most notable artists . . . Mr. Blackwell's sympathy for his subjects reveals unspoken truths we feel we might easily have intuited if only we'd listened to the music hard enough . . . I have never read anything better on Tom Waits, let alone in so few words . . . Best of all, one is always sent scurrying back to the music."
— The Wall Street Journal

"A superior story from start to finish, The Islander permits access to a remarkable world, but without any self-aggrandizing razzmatazz . . . to the credit of Blackwell's collaborator, the veteran journalist Paul Morley, [this] story is told with a disciplined coherence that plunges deep beneath the surface."
— The Telegraph

"A thoroughly quotable autobiography . . . a book that's hard to put down."
—Mojo

"This compelling autobiography charts the rise of the Island Records founder who became as much of a legend as the acts he championed . . . Blackwell helped revolutionize popular music, his label becoming a byword for uncompromised artistry and era-shaping acts . . . His story, warmly told with an unobtrusive ghost writer, is unique in popular music, its hero being not Blackwell but Jamaica itself."
— The Guardian Book Review

"Fascinating."
—8/10, Uncut

"A rip-roaring yarn, the ultimate behind the scenes insider look at the coolest label ever on the planet."
—The Quietus

"[Blackwell] candidly details both his hits and his misses in a highly readable new memoir. The dizzying list of stars it covers spans oceans, genres and eras, including Bob Marley, U2, Cat Stevens, Robert Palmer and Steve Winwood, who was, for years, the label's MVP. A deeper look at his catalogue shows an uncanny knack for promoting some of Britain's boldest acts, like King Crimson, Free, Mott the Hoople, Fairport Convention and Roxy Music, as well some of its most sensitive, like Sandy Denny, Nick Drake and John Martyn. Then there are those Island artists who cannot be classified in any way, like Grace Jones, John Cale, Marianne Faithfull and Eno."
— The Guardian

"Fascinating autobiography of the Island Records founder. The Islander is a treasure."
—Prog

"A memoir of a singular music mogul, his record label, and an era before rock became so corporate … Before music even enters the story, he recalls being punched by Errol Flynn and hanging out with Ian Fleming … Blackwell chronicles how he straddled the cultures of London and Jamaica and how an indifferent student with few career prospects learned the music business from the ground up … Highly recommended."
— Kirkus, starred review

"Rock and Roll Hall of Fame inductee Blackwell, founder of Island Records, delivers a fascinating behind-the-scenes account of his consequential career as a record producer . . . Throughout, Blackwell provides engrossing details of his road to success—including discovering such famed musicians as Bono and Cat Stevens—but most impressive is his refreshing self-awareness; as he writes, 'There's no two ways about it: I am a member of the Lucky Sperm Club. I was born into wealth and position.' Music lovers shouldn't miss this."
— Publisher's Weekly