The Beauty of Dusk: On Vision Lost and Found (Hardcover)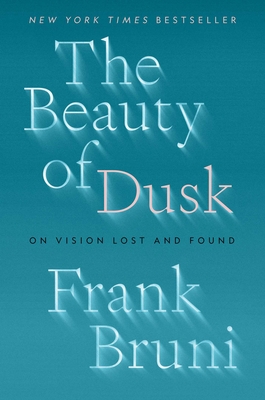 Staff Reviews
---
Upon reading The Beauty of Dusk, some might say that Frank Bruni is a "glass half full" kind of guy. I'd say that Frank's glass is overflowing. After reading about the past four year's of Frank's life, I am convinced that we can get better (evolve) with age (i.e. RBG, Joe Biden, Marge Feder) and that our limitations can present new opportunities. The Beauty of Dusk - personal, compassionate and full of empathy - is a must read for anyone dealing with life's limitations. . . and aren't we all.
-Bill
— From
Bill's Recs
Description
---
From New York Times columnist and bestselling author Frank Bruni comes a wise and moving memoir about aging, affliction, and optimism after partially losing his eyesight.

One morning in late 2017, New York Times columnist Frank Bruni woke up with strangely blurred vision. He wondered at first if some goo or gunk had worked its way into his right eye. But this was no fleeting annoyance, no fixable inconvenience. Overnight, a rare stroke had cut off blood to one of his optic nerves, rendering him functionally blind in that eye—forever. And he soon learned from doctors that the same disorder could ravage his left eye, too. He could lose his sight altogether.

In The Beauty of Dusk, Bruni hauntingly recounts his adjustment to this daunting reality, a medical and spiritual odyssey that involved not only reappraising his own priorities but also reaching out to, and gathering wisdom from, longtime friends and new acquaintances who had navigated their own traumas and afflictions.

The result is a poignant, probing, and ultimately uplifting examination of the limits that all of us inevitably encounter, the lenses through which we choose to evaluate them and the tools we have for perseverance. Bruni's world blurred in one sense, as he experienced his first real inklings that the day isn't forever and that light inexorably fades, but sharpened in another. Confronting unexpected hardship, he felt more blessed than ever before. There was vision lost. There was also vision found.
About the Author
---
Frank Bruni has been a prominent journalist for more than three decades, including more than twenty-five years at The New York Times, the last ten of them as a nationally renowned op-ed columnist who appeared frequently as a television commentator. He was also a White House correspondent for the Times, its Rome bureau chief, and, for five years, its chief restaurant critic. He is the author of three New York Times bestsellers. In July 2021, he became a full professor at Duke University, teaching media-oriented classes in the school of public policy. He continues to write his popular weekly newsletter for the Times and to produce occasional essays as one of the newspaper's official Contributing Opinion Writers.
Praise For…
---
"The Beauty of Dusk isn't the sad story of a man who lost his sight; it is the generous narrative of a student who sought wisdom when trials appeared in his life. . . . The volume curates an extraordinary collection of miniature profiles in courage and perseverance—a college friend with Parkinson's, a blind Rhodes scholar turned lieutenant governor and many more. As Bruni walks alongside those who have heard the unwanted news, suffered the terrifying and somehow found intimacy, purpose and joy, he metabolizes his own loss into a muscular wisdom. . . . There is mental and physical agony in this life, and Bruni does not judge anyone's decisions; rather, he grieves the losses and appreciates the grace. . . . Bruni persuades us to adapt out of loss. To do this, he relies on his writing weapons: He names the issues, asks the knotty questions, then writes toward the truths that the reader may need." —Min Jin Lee, The New York Times

"Moving and inspiring . . . Readers can discover through this memoir the inner strength to face their inevitable challenges, a renewed understanding of what others would say on their invisible sandwich boards, and a deeper well of compassion and kindness." —Steven Petrow, The Washington Post

"Frank Bruni is one of my favorite people in the world. . . . Man, he can write . . . The Beauty of Dusk is a positive message, a powerful reminder that with great vulnerability also comes great reward." —Oprah

"Bruni's beautifully written, reflective memoir is riveting." —Good Morning America, Must-Reads for March

"In this eloquent meditation on aging and resilience, journalist Bruni recounts his journey to acceptance after a stroke robbed him of much of his vision in the right eye. Instead of despairing, he sets out to learn how others navigate sight-impaired worlds—and rediscovers the gifts in his own life." —People

"A book about vision loss that becomes testimony to human courage, a moving memoir that offers perspective, comfort, and hope." —Booklist (starred review)

"Exquisitely written—smart and funny and a joy to read. I love this book!" —Ina Garten

"[An] affecting, illuminating memoir . . . With compassion and grace, Bruni guides us along a literal pilgrimage between light and darkness, a tender meld of science reporting and philosophical investigation." —Oprah Daily Most Anticipated Books of 2022

"Weaving together his own story of diminished eyesight with the stories of many other people, Frank Bruni constructs a philosophical narrative of resilience: how we can discover it in ourselves and how we can recognize and support it in others. His writing is lively and intimate, and his message is powerful and lucid." —Andrew Solomon

"Frank Bruni lost sight in one eye and turned that experience into a life-changing journey of empathy, discovery and renewal. Once again he has enlightened us all." —Tom Brokaw

"A masterful storyteller. A wonderful book. Honest. Poetic. Uplifting." —Lesley Stahl

"In this wonderful book, Frank Bruni offers insight and inspiration as he grapples with a daunting medical crisis. Beautifully written and bracing in its honesty, this book rewards its reader with the precious gift of learning how we all may seek resilience and ultimately recreate a meaningful life." —Jerome Groopman

"Uplifting and beautiful." —Katie Couric Media

"With the same precise clarity and melodic wit he layers in his New York Times op-eds . . . The Beauty of Dusk transcends memoir. Bruni's sharing creates a beacon, reminding us that often in life's cruelties there can be the opportunity to stretch beyond our measure." —Maria Shriver's The Sunday Papers newsletter

"A compassionate take on growing older [that] illustrates Bruni's knack for writing about the unpredictable beauty of the human condition. Smartly mixing memoir and cultural criticism, this movingly speaks to an entire generation." —Publishers Weekly

"In this memoir, Frank Bruni gives an ultimately hopeful account of his sudden illness and confrontation with mortality … a welcome reminder, despite the inevitability of dusk in each person's life, of how 'enriching and beautiful that dusk can be' when one examines it closely." —Shelf Awareness

"An uplifting exploration of human potential . . . [A] poignant, often wise look at how nearly everything bad that happens to us can actually be good." —Kirkus Reviews