Stay Up with Hugo Best: A Novel (Hardcover)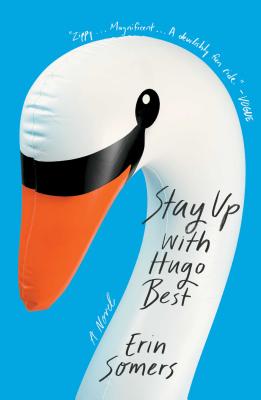 $26.00
Coming Soon - Available for Pre-Order Now
Staff Reviews
---
Witty and endearing, Stay up with Hugo Best is a rare example of a novel that will be ubiquitously loved. A nontraditional bildungsroman, a complicated story of admiration, and an insider's look at the lucrative business of late-night television, every facet of it is unexpected and wonderful. Somers is an expert at influencing the emotions of her readers, and by the time you turn the last page, you will feel as if you, too, have spent the weekend with Hugo Best.
-Tianna
— From
Tianna's Recs
Description
---
An incredibly timely, terrifically witty and moving debut about a young writers' assistant on a late night comedy show and what transpires when she accepts an invitation from its enigmatic host to spend a long weekend at his mansion in Connecticut.

June Bloom is a broke, cynical twenty-nine-year-old writers' assistant on the late-night comedy show, Stay Up with Hugo Best. Hugo Best is in his sixties, a beloved icon of TV and humor, and a notorious womanizer. After he unexpectedly retires and a party is held for his now unemployed staff, June ends up at a dive bar for an open-mic night and prepares for the sad return to the anonymous comedian lifestyle. What she's not prepared for is a run-in with Hugo at that dive bar. Nor for the invitation that swiftly follows: Hugo asks June to come to his mansion in Greenwich for the long Memorial Day weekend. "No funny business," he insists.

June, in need of a job and money, confident she can handle herself, but secretly harboring the remains of a childhood crush on the charming older comedian and former role model, accepts. The exact terms of the visit are never spelled out, but June is realistic and clear-eyed enough to guess. Even so, as the weekend unfolds and the enigmatic Hugo gradually reveals himself, their dynamic proves to be much more complicated and less predictable than she expected.

At once hilarious and poignant, brilliantly incisive and terrifically propulsive, Stay Up with Hugo Best is an incredibly timely exploration of sexual politics in the #MeToo age, and the unforgettable story of one young woman's poignant stumbling into adulthood.
About the Author
---
Erin Somers's writing has appeared in The New Yorker, Tin House Open Bar, Ploughshares, American Short Fiction, McSweeney's, the Cincinnati Review, and many other publications. She holds an MFA from the University of New Hampshire and was a 2016 NYC Center for Fiction Emerging Writer Fellow and a 2016 Millay Colony resident. She lives in Beacon, New York with her husband and daughter. Stay Up with Hugo Best is her first novel.
Praise For…
---
"A zippy debut…June's quick wit keeps the banter flowing over a bizarre Memorial Day weekend…the millennial and the magnetic celebrity are surprisingly well suited, two sardonic souls who find themselves connecting…magnificent…a devilishly fun ride."

"On the surface, Somers' debut is light and breezy, but the narrative is deft, controlled, and deadly smart. She mines depths out of Hollywood's propensity to look the other way when beloved men behave badly without a hint of preachiness. Instead, she's interested in complicity... What could be a straightforward novel about a young woman and an older man taking mutual advantage of one another is instead a brilliant study in how rarely we seize opportunities to grow and change for the better—especially if we're lucky enough to get more than one. An outstanding comedic debut about the deeply unfunny trials of growing up in and out of the spotlight. Somers is a writer to watch."

"I was honestly surprised to find so many funny one-liners in a novel with the unlikely subject of comedy writing, which is usually a bruising, neurotic enterprise. Erin Somers is a clear-eyed and clever young talent who has mastered the special art of dissection with affection."
— Carl Hiaasen, author of Razor Girl

"Our whole culture desperately needs Stay Up with Hugo Best. A book so relevant, and yet so incredibly funny."
— Gary Shteyngart, author of Super Sad True Love Story and Lake Success

"Funny, sharp, and very fun. A contemporary story that follows a complex set of characters so self-aware that they become even more vibrant on the page."
— Weike Wang, author of Chemistry

"Stay Up with Hugo Best is sharp, funny, and moving. By the time I finished, I felt like I'd taken a weekend trip to comedian Hugo Best's mansion myself, taken a dip in his pool, smoked with his son. Erin Somers brilliantly and beautifully captures the life of June Bloom, an ambitious young woman at the point of her career where she feels like anything might happen, and also nothing might, and is driven by curiosity about what's to come. An extremely winning, relatable, and convincing debut."
— Annie Hartnett, author of Rabbit Cake

"An older man, a younger woman, show biz, nakedness--but wait! This is the hilarious version with characters so sympathetic you root for them all, even the guy."
— Patricia Marx, New Yorker humorist and author of Him Her Him Again the End of Him

"Somers sidesteps the predictable path the reader might expect this weekend to take, instead meandering into subtle, surprising territory. Within the strict temporal boundaries she has set herself, Somers depicts two equally lost souls unable to connect on a deep level. This is a winning debut."

"A timely comment on sex and power in the entertainment industry... There are some great laugh-out-loud moments and one-liners, and the pace is steady throughout."

"Ingenious… With Hugo Best, Somers deftly teases out the muddled and sometimes inappropriate relationship men like him have with fame, aging and the women who get caught in their wake… Somers does a great job balancing June's competing feelings… Somers shines when depicting the little moments between the two, which are funny and poignant... Stay Up with Hugo Best itself never feels unsure: Somers knows exactly when both the laugh lines and the cringes should hit."