Bridge and Tunnel Boys: Bruce Springsteen, Billy Joel, and the Metropolitan Sound of the American Century (Hardcover)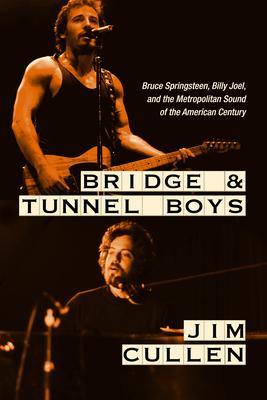 List Price: $31.95
Our Price: $28.76
(Save: $3.20 10%)
Usually Ships in 1-5 Days
Description
---
Born four months apart, Bruce Springsteen and Billy Joel both released their debut albums in the early 1970s, quickly becoming two of the most successful rock stars of their generation. While their critical receptions have been very different, surprising parallels emerge when we look at the arcs of their careers and the musical influences that have inspired them.
 
Bridge and Tunnel Boys compares the life and work of Long Islander Joel and Asbury Park, New Jersey, native Springsteen, considering how each man forged a distinctive sound that derived from his unique position on the periphery of the Big Apple. Locating their music within a longer tradition of the New York metropolitan sound, dating back to the early 1900s, cultural historian Jim Cullen explores how each man drew from the city's diverse racial and ethnic influences. His study explains how, despite frequently releasing songs that questioned the American dream, Springsteen and Joel were able to appeal to wide audiences during both the national uncertainty of the 1970s and the triumphalism of the Reagan era. By placing these two New York–area icons in a new context, Bridge and Tunnel Boys allows us to hear their most beloved songs with new appreciation.  

 
About the Author
---
JIM CULLEN teaches at the recently founded upper division of Greenwich Country Day School. His many books include 1980: America's Pivotal Year; Born in the U.S.A.: Bruce Springsteen and the American Tradition; and Those Were the Days: Why "All in the Family" Still Matters, all from Rutgers University Press. 
 
Praise For…
---
"Historian Cullen (1980) tracks in this meticulous study how Bruce Springsteen and Billy Joel ascended to fame...[T]his is an engrossing take on two music legends who documented the glory and melancholy of 'ordinary American life.'"
— Publishers Weekly

"Jim Cullen is a wide-ranging historian with unusual insight into American pop culture. In Bridge and Tunnel Boys, he turns his focus to two giants of rock and roll, Billy Joel and Bruce Springsteen, a winning combination resulting in an entertaining and provocative book that will appeal to anyone interested in pop music and its relationship to the historical currents that influence its creation."
— Tom Perrotta

"It's always a pleasure to read a new Jim Cullen book. This one is no exception as Cullen finds striking parallels in the music and lives of two very different—yet similar—musicians: Bruce Springsteen and Billy Joel. A fascinating cultural history of late twentieth century American popular music."
— June S. Sawyers

"A thoughtful and probing look at the work and careers of two artists born just months apart, Bridge and Tunnel Boys lends highly readable context as to where Billy Joel and Bruce Springsteen overlap—in terms of geography, musical approach, and audience—and where they diverge. Not solely for fans, this is a work that evokes a broader sense of the time and place in which the music was made, and how that music continues to influence the wider culture."
— Fred Schruers

"Bruce Springsteen and Billy Joel are epic figures who have been listened to, loved, and finally understood by Jim Cullen's Bridge and Tunnel Boys. Long an astute observer of American popular culture, Cullen provides a radiant analysis of both artists' music that is right on the money: perceptive and smart."
— Peter Ames Carlin