Ideal Beauty: The Life and Times of Greta Garbo (Hardcover)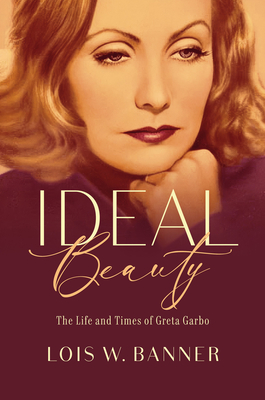 List Price: $34.95
Our Price: $31.46
(Save: $3.50 10%)
Usually Ships in 1-5 Days
Description
---
One of the silver screen's greatest beauties, Greta Garbo was also one of its most profound enigmas. A star in both silent pictures and talkies, Garbo kept viewers riveted with understated performances that suggested deep melancholy and strong desires roiling just under the surface. And offscreen, the intensely private Garbo was perhaps even more mysterious and alluring, as her retirement from Hollywood at age thirty-six only fueled the public's fascination. 
 
Ideal Beauty reveals the woman behind the mystique, a woman who overcame an impoverished childhood to become a student at the Swedish Royal Dramatic Academy, an actress in European films, and ultimately a Hollywood star. Chronicling her tough negotiations with Louis B. Mayer at MGM, it shows how Garbo carved out enough power in Hollywood to craft a distinctly new feminist screen presence in films like Queen Christina. Banner draws on over ten years of in-depth archival research in Sweden, Germany, France, and the United States to demonstrate how, away from the camera's glare, Garbo's life was even more intriguing. Ideal Beauty takes a fresh look at an icon who helped to define female beauty in the twentieth century and provides answers to much-debated questions about Garbo's childhood, sexuality, career, illnesses and breakdowns, and spiritual awakening. 
About the Author
---
LOIS W. BANNER is a Professor Emerita of History at the University of Southern California. She was the first female president of the American Studies Association. Her many books include 
Marilyn: The Passion and the Paradox 
and 
American Beauty
.
Praise For…
---
Exclusive Excerpt: "Greta Garbo, the 'Furious Lesbian,' and a Classic Hollywood Love Triangle". 
— Vanity Fair
"While Garbo captivated audiences with her beauty and mysterious persona, [
Ideal Beauty
] offers an insightful portrait of her private life, interrogating her feminism, sexuality, mental health, and more. Garbo rose to fame on the silent screen, but this new biography gives voice to her life in unparalleled fashion."
— Entertainment Weekly
"[A] reconsideration of Greta Garbo as a template for analyzing tropes about 20th-century women...[
Ideal Beauty
] presents a truly different approach for both lay and academic readers. It expertly offers an understanding of an elusive figure within the context of the film industry."
— Library Journal, STARRED Review
"[D]ifferent and highly worthwhile...[
Ideal Beauty
] captures well the milieu in which Garbo became a star, but, more to the point, places her in the context of what beauty meant in the era in which Garbo thrived."
— Air Mail
"[An] enriching and immersive biography...Banner meticulously examines Garbo's 'ideal beauty' as a canvas onto which filmmakers could project their creative vision...The result is a rewarding look at an enigmatic star."
— Publishers Weekly
"In this scrupulously researched book, Lois Banner brings a novel and insightful approach to the study of film icon Greta Garbo by examining her life and relation to standards of beauty, as well as surfacing previously unheralded issues: those who found her unattractive, the role of "Garbo Maniacs" in her star discourse, her power at MGM, the toll of her hidden illnesses, the place of religion in her life, the celebrity world in which she circulated post-Hollywood retirement. Thus,
Ideal Beauty
combines biography, film analysis, and social/feminist history in a scholarly yet approachable fashion. A must for all Garbo aficionados."
— Lucy Fischer
"In this illuminating biography of Greta Garbo, Lois Banner brings her skills and talents as a perceptive feminist, accomplished historian, and keen cultural observer to move beyond the myths and stereotypes to uncover the life and times of this iconic Hollywood beauty. A great read!"
— Lary May