"Winners" and "Losers" in the Ongoing Battle to Protect and Control the Spectacular Water Wilderness of Havasu Canyon (Hardcover)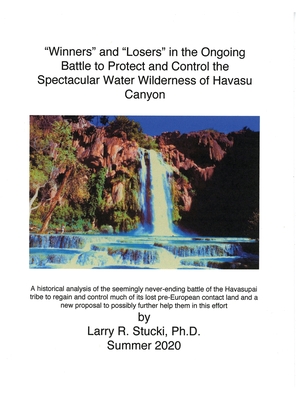 $29.95

Usually Ships in 1-5 Days
(This book cannot be returned.)
Description
---
Dr. Stucki is the author of 22 published articles and a book about the continuing problems still facing Native Americans in the US and Canada that he observed during his almost 40-year teaching and research career that often involved close interaction with indigenous individuals and reservations in an attempt to ameliorate certain problems still facing them.
In this historical analysis of the seemingly never-ending battle of the Havasupai tribe to regain and control much of its lost pre-European contact land he explores possible solutions to the most serious final roadblocks still facing them in this bitter struggle.
Such a roadblock is vividly described in the following passage from Chapter 8, page 136:
Just off the trail, near the scenic splendors of the waterfalls, above the grave of a small child, in 1973, I sadly observed a weather-battered doll lying in a decomposing crib. This grim reminder of the terrible price that the Havasupai people continued to pay for their wilderness isolation was not even noticed by the average backpacking tourist. In fact, conditions for the weekend backpacker were never better than during my 1977 and 1980 visits. The campground was less crowded than usual and the splendid waterfalls and "noble savages" of Supai had been saved "forever" from the evils of exploitation.
Few campers remember that their own ancestors often fled from the wilderness to the cities to escape from poverty or that today it is seldom the lifelong rural resident who advocates further expansion of our national wilderness areas. For city dwellers, a brief wilderness experience is a welcome change of pace especially when buffered by expensive boots, freeze dried foods, tents, sleeping bags, and other technological gadgets. However, most such adventurers after their brief encounter with the wilderness eagerly anticipate their reunion with the luxuries of urban living, an option that in 1977 no longer appeared to be available to most permanent residents of Supai...
Dr. Stucki received his M.A. Degree in Anthropology from UCLA and a PH.D. in Anthropology from the University of Colorado.