Hydroponics: Beginner's Guide to Quickly Start Growing Your Own Vegetables, Fruits, & Herbs And Learn How to Build Your Own Hydropo (Hardcover)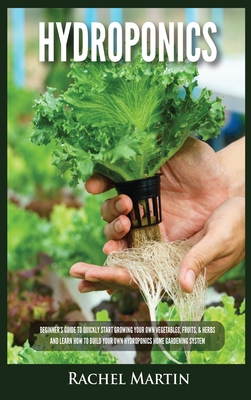 $25.99

Usually Ships in 1-5 Days
Description
---
It's always a good thing to get in on the action and participate in what's been tested and proven good for the society, such as Hydroponics Gardening, but it's even more profitable when you go into it with your eyes open. Some people will want to try out hydroponics just because they saw someone doing it, and they perceive it to be an easy thing to do. However, as fun and interesting as hydroponics may seem, it's challenging and needs to be taken up only by informed minds...
To that end, the author has arranged all relevant information on hydroponics into chapters that will let you in on all there is to know with hydroponics. You'll get the proper definition of hydroponics, how it works, the tools you need to work it, and various hydroponics systems from which you can choose. You'll also be informed of the benefits you stand to enjoy and the disadvantages you have to endure when you choose hydroponics. Nevertheless, this is one of the most profitable and practical ways to grow crops as we step into the future with a large health-conscious population who are all about the quality and not the quantity of food...
Going by popularity, you can already tell that hydroponics farming brings many benefits. It shortens the growth span of crops, increases the quality of produce and heightens the quantity of food produced. Hydroponics is also being taken up for its aesthetic value, to clean up the air indoors, and as a way to reduce environmental pollution due to the use of less water and fertilizers...
What's more, manufacturers are now starting to produce organic hydroponic fertilizers, which means that farmers will not only be enjoying the returns from selling their vegetables, they'll also have a great story to tell about environmental conservation...
Every piece of information you would need as you get into this increasingly popular method of farming is in this book. Kindly take note of the common mistakes beginners make in hydroponics gardening, and take measures to avoid falling into those pitfalls. This way, you'll avoid making the mistakes others have made, and therefore avoid suffering the devastating losses that they endured...
In this book you'll learn:
What is hydroponics
The most thorough explanation about how hydroponics work
The list of crops for which hydroponics farming is best suited
An extensive list of tools and equipment you'll need for your hydroponics garden
The most useful tips to get you through the business seamlessly
A list of common mistakes hydroponics beginners make and how to avoid them
The most precise directions to guide you as you start your first hydroponics garden
The most accurate prediction of the future of hydroponics farming, and how you need to position yourself to receive all the benefits there will be.
And so much more
Grab your copy of
Hydroponics
now.