More Miracle Than Bird (Paperback)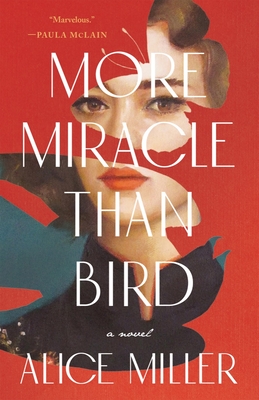 Staff Reviews
---
Book clubs - have a "field day" with Alice Miller's More Miracle than Bird. The novel opens with Georgie Hyde-Lees as she tends to a London hospital ward of injured World War I officers. Throw in secret meetings, spirits, and shades of a medieval romantic tragedy as Georgie's anticipated relationship with the much older Irish poet W. B. Yeats develops. No doubt strong-willed Georgie is going to do "her own thing;" there were a few passages where I wanted to reach into the book and extract naïve Georgie from the unsettling situation. Pay attention - symbolism abounds (Look closely at the cover) - enjoy and don't forget to pass the brandy!
- Mindy
— From
Mindy's Recs
Description
---
"Marvelous." —Paula McLain
A New York Times Book Review Summer Reading Selection
On the eve of World War I, twenty-one-year-old Georgie Hyde-Lees meets the acclaimed poet W. B. Yeats at a soirée in London. Although Yeats is famously eccentric and many years her senior, Georgie is drawn to him, and when he extends a cryptic invitation to a secret society, her life is forever changed.
As zeppelins stalk overhead and bombs bloom against the skyline, Georgie finds purpose tending to injured soldiers in a makeshift hospital. She befriends the wounded and heartbroken Lieutenant Pike, who might need more from her than she is able to give. At night, she escapes with Yeats into a darker world, becoming immersed in the Order, a clandestine society of ritual and magic.  As forces—both of this world and the next—pull Yeats and Georgie closer together and then apart, Georgie uncovers a secret that threatens to undo it all.
In bright, commanding prose, author Alice Miller illuminates the fascinating and unforgettable courtship of Georgie Hyde-Lees and W. B. Yeats. A sweeping tale of faith and love, lost and found and fought for, More Miracle than Bird ingeniously captures the moments—both large and small—on which the fates of whole lives and countries hinge.
About the Author
---
Alice Miller is a graduate of the Iowa Writers' Workshop and the International Institute of Modern Letters. She is on the faculty of the MFA program at Cedar Crest College.
Praise For…
---
The lens through which a story is told makes all the difference. . . . Miller deftly presents a portrait of Georgie, a young woman calibrating her place in the world, and her shifting relationship with the man she adores.
— Booklist

Historical fiction devotees will appreciate this sensitive character study wrapped in an atmospheric, moody rendering of WWI London.
— Publishers Weekly

Sweeping . . . A pristine, thoughtful re-imagining of the personal lives of true literary greats.
— Shelf Awareness, Starred Review

Subtle and low-key, Miller's debut coolly appraises the poet while fully inhabiting the woman in his shadow.
— Kirkus Reviews

A terrific tale. . . . Written with superb emotional rightness.
— Joan Silber, author of Secrets of Happiness

A shimmering novel about our yearnings for forever, and the greatest mystery of life, which is, of course, love. It must be said: More Miracle than Bird is a bit of a miracle in itself.

— Caroline Leavitt, author of With or Without You

Alice Miller proves herself to be a superb medium. . . . A vivid portrait of mercurial artists in a tumultuous time.
— Christopher Castellani, author of Leading Men

Engrossing and impressive.
— Lisa Gornick, author of The Peacock Feast

More Miracle than Bird will ring in my mind's ear for a long time, and I will return to its pages. A wonderful book!

— Jay Parini, author of Borges and Me

Riveting. . . . Brilliantly animates a pivotal period of literary history.
— Joanna Scott, author of Careers for Women

Miller has written a luminous novel about the women involved with the early 20th century's most notable men poets, offering a fresh portrayal of the women's brilliant complexity. Ambition, artifice, and adventure draw them through a contingent world unsettled by spirits, mediums, the war dead, and soon-to-be dead. But Miller is up to more than telling a story of these fascinating lives: More Miracle Than Bird makes a sly and disturbing inquiry into how art truly gets made and to whom it belongs.

— Katherine Dion, author of The Dependents

Miller probingly explores the sacrifices that accompany loving a great artist, as well as 'Willy' and Georgie's fascination with the occult.
— Keija Parssinen, author of The Unraveling of Mercy Louis