Bluebeard's First Wife (Paperback)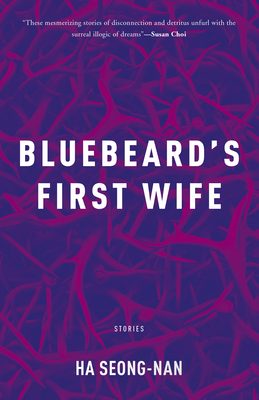 Staff Reviews
---
Seong-Nan probes life's uncertainties and absurdities in her newest and perhaps most assured short story collection. Here are women and men operating under rigid societal expectations, struggling to remain in control of their fate. In the title story a couple loses their child to a horrific school fire, and subsequently loses focus for everything else in life. In another story kites, white shirts, and a deadbeat husband coalesce into a statement about opportunity lost. Exploring the spectrums between constraint and freedom, paranoia and apathy, these eleven stories are miniature worlds that will elicit pangs of recognition for the universal human experience. Do yourself a favor and read this excellent translated work from an award-winning Korean writer!
-Cindy
— From
Cindy's Recs
Description
---
A Publishers Weekly Top Ten Book of 2020 Disasters, accidents, and deaths abound in Bluebeard's First Wife. A woman spends a night with her fianc and his friends, and overhears a terrible secret that has bound them together since high school. A man grows increasingly agitated by the noise made by a young family living in the apartment upstairs and arouses the suspicion of his own wife when the neighbors meet a string of unlucky incidents. A couple moves into a picture-perfect country house, but when their new dog is stolen, they become obsessed with finding the thief, and in the process, neglect their child. The paranoia-inducing, heart-quickening stories in Ha's follow-up to the critically acclaimed Flowers of Mold will have you reconsidering your own neighbors.
About the Author
---
Ha Seong-nan is the author of five short story collections--including Bluebeard's First Wife and Flowers of Mold--and three novels. Over her career, she's received a number of prestigious awards, such as the Dong-in Literary Award in 1999, Hankook Ilbo Literary Prize in 2000, the Isu Literature Prize in 2004, the Oh Yeong-su Literary Award in 2008, and the Contemporary Literature (Hyundae Munhak) Award in 2009. Janet Hong is a writer and translator based in Vancouver, Canada. Her work has appeared in Literary Hub, Asia Literary Review, Words Without Borders, and the Korea Times. Her other translations include Han Yujoo's The Impossible Fairy Tale and Ancco's Bad Friends.