Odsburg: A Socio-Anthropo-Lingui-Lore-Ological Study (Paperback)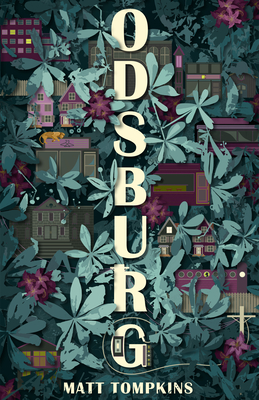 $16.00

Usually Ships in 1-5 Days
Staff Reviews
---
Welcome to the small town of Odsburg, Wash., where mountain lions live in basements and a couple is so hungry they eat themselves, literally, out of house and home. Odsburg is narrated by the only "socio-anthropo-lingui-lore-ologist" in existence, Wallace Jenkins-Ross. In transcripts of field recordings, candy wrappers and letters found in books, the surreal landscape of Odsburg takes shape and its inhabitants become whole. Ben Jemison sees people and objects as if they're burning, and believes that this isn't a disability but a metamorphosis. The "Existentialists In-Dependence Recovery and Support Group" credo says, in part, "I reach out for whatever stable surfaces might help to keep me upright and moving forward in a world...where everything seems so crumbly and chimeric and questionable." Odsburg, like Joseph Fink and Jeffrey Cranor's little desert town of Night Vale, shows, through philosophical musing and existential uncertainty, the shared humanity and essential goodness of disparate people.
-Cindy
— From
Cindy's Recs
Description
---
WINNER OF 1ST PLACE BLUE RIBBON FOR 2020 MARK TWAIN BOOK AWARD FOR HUMOR, SATIRE, AND ALLEGORICAL FICTION
An eccentric writer and self-proclaimed socio-anthropo-lingui-lore-ologist ventures into the fictional town of Odsburg, Washington, to research the location's unusual history and residents.
Convinced the name of the town is no coincidence, Wallace Jenkins-Ross goes about uncovering its mysteries through shady (and sometimes illegal) means. He discovers one man contending with a family of mountain lions living in his basement, another who can't stop hallucinating after getting laser-eye surgery, and a corporate employee whose skin is gradually receding. Despite his immersion into local traditions of flannel and bar food, the residents prove hesitant to speak on record--particularly within earshot of OdsWellMore Pharmaceutical, whose ominous presence extends not only to call centers and pet parades but to maintaining (and testing) the physical and mental well-being of the community.
In face of this hindrance, Jenkins-Ross persists. He unravels the puzzle of Odsburg through recordings, flyers, radio ads, and his own eye-witness accounts. Absurd and wildly divergent, the tales told are rooted in the town itself and in universal themes of mental health and addiction, mortality and meaning, love and loss. In the end, perhaps the most notable thing about the residents is the familiarity of the feelings they reflect--warped as their lives may be. The stories, while bizarre and unexpected, reveal that--at their core--they're still mostly human.
About the Author
---
Matt Tompkins is the author of Souvenirs and Other Stories (Conium Press), Studies in Hybrid Morphology (tNY Press) and Topia (Red Bird Chapbooks). His stories have appeared in the New Haven Review, Post Road, and online at the Carolina Quarterly, Fiction Southeast, and Puerto del Sol. He works as a copy editor and lives in Virginia with his wife and daughter.