More Miracle Than Bird (Hardcover)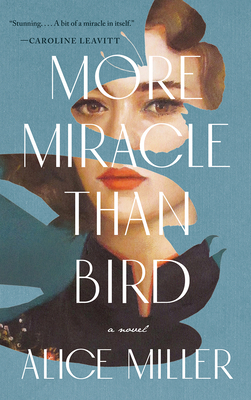 Staff Reviews
---
Book clubs - have a "field day" with Alice Miller's More Miracle than Bird. The novel opens with Georgie Hyde-Lees as she tends to a London hospital ward of injured World War I officers. Throw in secret meetings, spirits, and shades of a medieval romantic tragedy as Georgie's anticipated relationship with the much older Irish poet W. B. Yeats develops. No doubt strong-willed Georgie is going to do "her own thing;" there were a few passages where I wanted to reach into the book and extract naïve Georgie from the unsettling situation. Pay attention - symbolism abounds (Look closely at the cover) - enjoy and don't forget to pass the brandy!
- Mindy
— From
Mindy's Recs
Description
---
A New York Times Book Review Summer Reading Selection
For fans of Paula McLain's The Paris Wife and Amor Towles's Rules of Civility, Alice Miller's sweeping debut novel charts the love story of two of literature's most fascinating characters: Georgie Hyde-Lees and her husband, W. B. Yeats.
On the eve of World War I, twenty-one-year-old Georgie Hyde-Lees—on her own for the first time—is introduced to the acclaimed poet W. B. Yeats at a soirée in London. Although Yeats is famously eccentric and many years her senior, Georgie is drawn to him, and when he extends a cryptic invitation to a secret society, her life is forever changed. 
A shadow falls over London as zeppelins stalk overhead and bombs bloom against the skyline. Amidst the chaos, Georgie finds purpose tending to injured soldiers in a makeshift hospital, befriending the wounded and heartbroken Lieutenant Pike, who might need more from her than she is able to give. At night, she escapes with Yeats into a darker world, becoming immersed in the Order, a clandestine society where ritual, magic, and the conjuring of spirits is practiced and pursued. As forces—both of this world and the next—pull Yeats and Georgie closer together and then apart, Georgie uncovers a secret that threatens to undo it all.
In bright, commanding prose, debut author Alice Miller illuminates the fascinating and unforgettable courtship of Georgie Hyde-Lees and W. B. Yeats. A sweeping tale of faith and love, lost and found and fought for, More Miracle than Bird ingeniously captures the moments—both large and small—on which the fates of whole lives and countries hinge.
About the Author
---
Alice Miller is a graduate of the Iowa Writers' Workshop and the International Institute of Modern Letters. She is on the faculty of the MFA program at Cedar Crest College.
Praise For…
---
Historical fiction devotees will appreciate this sensitive character study wrapped in an atmospheric, moody rendering of WWI London.
— Publishers Weekly

The lens through which a story is told makes all the difference. ... Miller deftly presents a portrait of Georgie, a young woman calibrating her place in the world, and her shifting relationship with the man she adores.
— Booklist

Sweeping . . . A pristine, thoughtful re-imagining of the personal lives of true literary greats.
— Shelf Awareness, Starred Review

Subtle and low-key, Miller's debut coolly appraises the poet while fully inhabiting the woman in his shadow.
— Kirkus Reviews

Alice Miller proves herself to be a superb medium, summoning the mind and heart of Georgie Hyde-Lees and placing her at the center of a finely tuned and riveting drama. More Miracle than Bird is both a necessary corrective and a vivid portrait of a set of mercurial artists in a tumultuous time.

— Christopher Castellani, author of Leading Men

Only a wildly gifted novelist could give us this terrific tale of Georgie Hyde-Lees and her sometime suitor, the much older poet W. B. Yeats. Written with superb emotional rightness.
— Joan Silber, author of Improvement

Miller's stunning debut brilliantly chronicles the romance between midlife poet W. B. Yeats and the younger, shining Georgie Hyde-Lees, backdropped by a startling secret society obsessed with the promise of an Afterlife. A shimmering novel about our yearnings for forever, and the greatest mystery of life, which is, of course, love. It must be said: More Miracle Than Bird is a bit of a miracle in itself.

— Caroline Leavitt, New York Times bestselling author of Pictures of You

I was drawn at once to this subject—the strange and touching marriage of Yeats, one of the greatest of modern poets, to the young, sensitive, and articulate Georgie Hyde-Lees. This was an improbable union, in the wake of the poet's torrential years of unrequited love for Maud Gonne and, alas, her daughter as well. The terrain is tricky here; but Alice Miller is a gifted novelist, and she brings these voices, this magical lost world, to vibrant life. More Miracle Than Bird will ring in my mind's ear for a long time, and I will return to its pages. A wonderful book!

— Jay Parini, author of The Last Station

Alice Miller brings her fine poet's eye to painting an unforgettable portrait of Georgie Hyde-Lees, future wife of W. B. Yeats, as she struggles against a background mélange of artists, writers, and occultists to discover her own mind. Filtered through Miller's keen poet's ear, we hear the cadences of her characters' interior voices in the twilight between life and death, and the beat of their hearts in their journeys towards love. An engrossing and impressive debut, More Miracle than Bird is a welcome addition to the canon of historical fiction that shines light on women whose legacies have been shadowed by their famed partners.

— Lisa Gornick, author of The Peacock Feast

Alice Miller brilliantly animates a pivotal period of literary history in expansive scope and immersive detail. Miller illuminates the relationship of Georgie Hyde-Lees and W. B. Yeats by vividly reimagining them, making the past newly apprehensible and riveting.
— Joanna Scott, author of Careers for Women

A transporting, wrenching novel written in prose
that dances across the page.
— Keija Parssinen, author of The Unraveling of Mercy Louis

Miller has written a luminous novel about the women involved with the early 20th century's most notable men poets, offering a fresh portrayal of the women's brilliant complexity. Ambition, artifice, and adventure draw them through a contingent world unsettled by spirits, mediums, the war dead, and soon-to-be dead. But Miller is up to more than telling a story of these fascinating lives: More Miracle Than Bird makes a sly and disturbing inquiry into how art truly gets made and to whom it belongs.

— Katherine Dion, author of The Dependents