The Adulterants (Hardcover)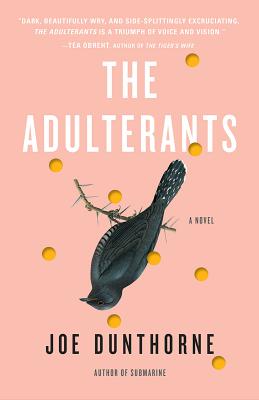 $19.95
Usually Ships in 1-5 Days
Staff Reviews
---
Emotionally striking, heartbreaking, and equally as heart-warming, Joe Dunthorne's The Adulterants gives an insightful look into the intimacies of modern-day marriage and the flawed coping mechanisms of a pitifully dark-humored husband. We live through a series of breakneck stages - false security, uncertainty, fear, denial, mania - as Ray Morris unwittingly sabotages his own marriage, all the while remaining self-defyingly indifferent. The perfect example of a fairytale-gone-awry, The Adulterants will have you rooting for the resurrection of Ray's seemingly brain-dead life, remaining dumbly optimistic as you watch his relationship become the public disaster he and his wife so often commiserated.
- Tianna
— From
Tianna's Recs
Description
---
For readers of Roddy Doyle, Nick Hornby, and Mark Haddon, The Adulterants is a piercingly funny—and cringingly poignant—take on how hard it is to grow up and how hard it is when you don't. 
Ray Morris is a tech journalist with a forgettable face, a tiresome manner, a small but dedicated group of friends, and a wife, Garthene, who is pregnant. He is a man who has never been punched above the neck. He has never committed adultery with his actual body. He has never been caught up in a riot, nor arrested, nor tagged by the state, nor become an international hate-figure. Not until the summer of 2011, when discontent is rising on the streets and within his marriage. Ray has noticed none of this. Not yet.


The Adulterants 
would be a coming-of-age story if its protagonist could only forget that he is thirty-three years old. Throughout a series of escalating catastrophes, our deadpan antihero keeps up a merciless mental commentary on the foibles and failings of those around him, and the vicissitudes of modern urban life: internet trolls, buy-to-let landlords, open marriages, and the threat posed by more sensitive men. But the wonder of 
The Adulterants 
is how we feel ourselves rooting for Ray even as we acknowledge that he deserves everything he gets.
About the Author
---
Joe Dunthorne's debut novel, Submarine, won the Curtis Brown prize, was translated into sixteen languages and adapted into an award-winning film by Richard Ayoade. His second novel, Wild Abandon, won the Society of Authors' Encore Award. A pamphlet of his poems was published by Faber and Faber. His stories and poems have appeared in The Paris Review, McSweeney's and The London Review of Books.
Praise For…
---
Dark, beautifully wry, and side-splittingly excruciating, The Adulterants is a triumph of voice and vision.

— Téa Obreht, author of THE TIGER'S WIFE

Blisteringly funny and brimming with caustic charm—a joyous diagnosis of our modern ills that made me laugh out loud even when it was breaking my heart.
— Paul Murray, author of SKIPPY DIES

A domestic comedy that explodes the myths of manhood with joyful pandemonium.
— Kirkus

Wincingly good and brilliantly observed  . . . [A] riveting read led by a character we care about and believe in.
— The Minnesota Star Tribune

Darkly funny, Ray's story embodies the modern failure-to-launch affliction, the problems of an adult who will not grow up. . . . Dunthorne's conversational style is the perfect tone for delivering this late coming-of-age story with humor.
— Booklist

Dunthorne (Submarine) zeroes in with precision on that period of life when work and family exert increasing pressure on immature young men. Ray, who narrates, has charm to spare, and his self-deprecating attitude goes a long way to compensate for his many flaws. Dunthorne's sly wit locates the humor in even the slightest and most depressing details.

— Publishers Weekly

The Adulterants is a richly illuminating comedy of disappointment, uproarious and mournful, that places Joe Dunthorne triumphantly in the tradition of Evelyn Waugh and (that other Swansea resident) Kingsley Amis. A deft, brilliant, surprising joyride.

— The Arts Desk

Dunthorne is a superbly economical writer—he crams an awful lot of plot into 173 pages—and one with a poet's sensibility: a room is described as 'uncle-scented'; a paper plate of baba ganoush is 'smooshed' under a shoe. He is also properly funny. . . . But throughout, the novel's comedy is always balanced by insight and poignancy.
— The Guardian

The ending of Joe Dunthorne's new novel, The Adulterants, is so good I had to go back and reread it immediately to try to figure out how he did it. . . . Brilliant.

— Jenny Offill, author of DEPT. OF SPECULATION
Upcoming Events
Event date:

Tue, 03/31/2020 - 10:30am