A Loving, Faithful Animal (Paperback)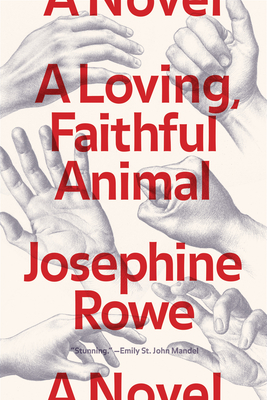 Staff Reviews
---
A Loving Faithful Animal is a heartbreaking look at a family both reaching for and pushing away until they exhaust their capacity to return to each other. Ru is a self-contained child, anxious but tough, whose hope for a family devoid of dramatics is always disappointed. Evelyn, her mother, turned away from conventional family life to marry the dangerous and charming Jack, a Viet Nam veteran who alternates between abuse and abandonment. Lani, Ru's oldest sister, is herself caught up in wildly self-destructive behavior. Watching from the edges is Les, Jack's brother, whose shadowy role in this family is a source of mistrust. The characters, haunted by regret and damaged by those they love, are allowed to tell their own stories in language that is sensual, sharp, and as devastating as a blow to the heart. Josephine Rowe is highly acclaimed in her native Australia, and this first novel to be published in the United States is a fine introduction to her lean and poetic writing.
- Cindy
— From
Cindy's Recs 2
Description
---
"I found myself considering those rare things only books can do, feats outside the purview of film or fine art . . . Gorgeous." --Samantha Hunt, The New York Times Book Review
It is New Year's Eve 1990, in a small town in southeast Australia. Ru's father, Jack, one of thousands of Australians once conscripted to serve in the Vietnam War, has disappeared. This time Ru thinks he might be gone for good. As rumors spread of a huge black cat stalking the landscape beyond their door, the rest of the family is barely holding on. Ru's sister, Lani, is throwing herself into sex, drugs, and dangerous company. Their mother, Evelyn, is escaping into memories of a more vibrant youth. And meanwhile there is Les, Jack's inscrutable brother, who seems to move through their lives like a ghost, earning both trust and suspicion.
A Loving, Faithful Animal is an incandescent portrait of one family searching for what may yet be redeemable from the ruins of war. Tender, brutal, and heart-stopping in its beauty, this novel marks the arrival in the United States of Josephine Rowe, the winner of the 2016 Elizabeth Jolley Prize and one of Australia's most extraordinary young writers.
About the Author
---
Josephine Rowe was born in 1984 in Rockhampton, Australia, and grew up in Melbourne. In the United States her writing has appeared in McSweeney's Quarterly Concern, The Iowa Review, The Paris Review Daily, and other publications. She holds fellowships from the Wallace Stegner Program in fiction at Stanford University, the International Writing Program at the University of Iowa, the Omi International Arts Center, and Yaddo. In 2016, her fiction won the Elizabeth Jolley Prize in Australia. She currently lives in Tasmania.
Upcoming Events
No upcoming events available