Gabi, a Girl in Pieces (Paperback)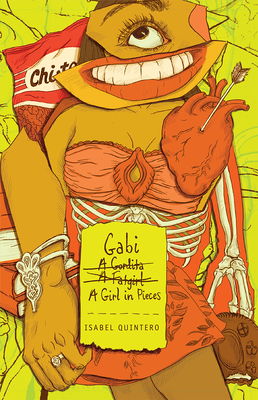 $16.95

Usually Ships in 1-5 Days
Description
---
William C. Morris Award for YA Debut Novel, American Library Association (ALA)
Best Books of the Year, School Library Journal
Editors' Choice, Booklist
Amelia Bloomer Project - Feminist Task Force, American Library Association (ALA)
Top 10 List, Quick Picks for Reluctant Young Readers, American Library Association (ALA)
Best Fiction for Young Adults, American Library Association (ALA)
In this groundbreaking William C. Morris Award winner for a YA debut, Gabi's life is a mess--her family, her friends, her attempts at a love life--but writing helps, especially since it turns out she's pretty good at poetry.
Gabi Hernandez chronicles her last year of high school in her diary: college applications, Cindy's pregnancy, Sebastian's coming out, the cute boys, her father's meth habit, and the food she craves. And best of all, the poetry that helps forge her identity.
July 24
My mother named me Gabriella, after my grandmother who, coincidentally, didn't want to meet me when I was born because my mother was unmarried, and therefore living in sin. My mom has told me the story many, many, MANY, times of how, when she confessed to my grandmother that she was pregnant with me, her mother beat her. BEAT HER She was twenty-five. That story is the basis of my sexual education and has reiterated why it's important to wait until you're married to give it up. So now, every time I go out with a guy, my mom says, "Ojos abiertos, piernas cerradas." Eyes open, legs closed. That's as far as the birds and the bees talk has gone. And I don't mind it. I don't necessarily agree with that whole wait until you're married crap, though. I mean, this is America and the 21st century; not Mexico one hundred years ago. But, of course, I can't tell my mom that because she will think I'm bad. Or worse: trying to be White.
About the Author
---
Isabel Quintero is an award-winning writer from the Inland Empire of Southern California. She is also the daughter of Mexican immigrants. In addition to Gabi, A Girl in Pieces, she has also written a chapter book series for young readers, Ugly Cat and Pablo; a non-fiction YA graphic biography, Photographic: The Life of Graciela Iturbide, which received the Boston Globe Horn Book Award; and a picture book, My Papi Has a Motorcycle. Isabel also writes poetry and essays. Her work can be found in The Normal School, Huizache, The Acentos Review, As/Us Journal, The James Franco Review, and other publications.
Coverage from NPR