Italian Americans: Bridges to Italy, Bonds to America (Paperback)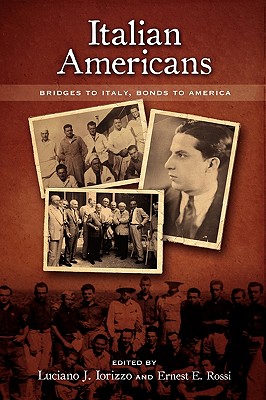 Email or call for price.
Usually Ships in 1-5 Days
(This book cannot be returned.)
Description
---
In this volume attesting to the Italian American influence on the United States, nine professors of Italian American studies and a curator of an ethnic museum provide original essays on the Italian American experience, using the theme bridges to Italy and bonds to America. Drawing from a wide variety of primary sources, such as census tracts, local directories, diaries, voting records, newspaper accounts, personal interviews and scholarly and polemical books and articles, the authors show how Italian Americans adapted, through work, prejudice, strife, and advancement, to the social and political life in America while still retaining an element of Italianita. Italian Americans were key components in the early years of jazz history in the 1920s and 1930s. This study adds some balance to the development of jazz by tracing the bonds that Italian Americans formed with Black musicians and their pioneering use of the guitar and violin. An obvious example of the theme of this book is a study of Italian prisoners of World War II, who were transported to the United States and settled in a camp in Texas. The author shows how they helped farmers by their work and how artists among them helped decorate a local church with paintings and murals. A comparison of the Italian and Mexican immigration to the United States shows the similarity and differences of these two groups over time. An examination of the proposition that Mexicans are like Italians is examined in detail. A bibliographical study of the "southern question" in Italian history shows the explosive forces that erupted during and after Italian unification. Italians and Italian Americans are still debating whether this incorporation of the Italian south into the kingdom of Italy was detrimental to the people who lived there and contributed to the massive emigration that followed. This study is an outgrowth of a desire by scholars to honor the passing of Professor Salvatore Mondello, coauthor of the national bestseller The Italian Americans. One of a few historians of Italian American immigration who appeared on the scene in the late 1950s and early 1960s he approached the subject with enthusiasm, passion, and a relentless search for relevant material marked by digging into primary sources, rooting out individuals who had lived through the immigrant experience and pouring over the contemporary accounts found in newspapers and magazines. Sal was one of the first to see the important link between railroads and Italian American settlements. He saw that the rail lines accelerated the Italians' movement beyond the large cities in the coastal areas. They used the railroads as the means to establish new lives in many urban and rural communities across the country.