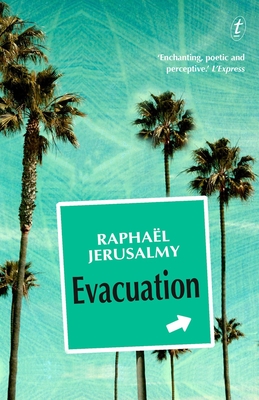 Staff Reviews
---
Naor and his girlfriend, Yaël, had planned to accompany Saba, his grandfather, on a bus to the countryside after the mandatory evacuation of Tel Aviv. At the last minute, Saba gets off the bus and refuses to leave. Naor and Yaël follow him, initially to change his mind, but when he refuses, they decide, in an act of "dissidence," to defy the evacuation orders. The trio scavenges for food and water and wander the city reminiscing. The reader, like the characters, is lulled into pretending that there isn't a war going on. Thus, when the situation deteriorates, the devastation they experience is all the more shocking for the ordinary routines they'd established. Evacuation is no typical war novel: spare yet compelling, and extraordinarily moving in unexpected places, it challenges those who glance impassively at a televised war to step into the experience of those nearby.
-Cindy
— From
Cindy's Recs 2
Description
---
Naor, a young filmmaker, is driving with his mother. He tells her about being in Tel Aviv after a recent evacuation.
A novel of suspense, a profound tale about our choices under pressure, about love, for each other and for a place, about death, and about finding a way to peace. Everyone has fled Tel Aviv, except for Naor and Ya l, his artist girlfriend, and Saba, his writer grandfather. The occasional missile explodes nearby. But Saba refuses to leave the place he loves. And Ya l has her own secret aspirations. In defiance of the war, they scavenge an existence and explore the mysteries of their beloved city--until the unthinkable happens.