Shadows Across The Moon: Outlaws, Freaks, Shamans, And The Making Of Ibiza Clubland (Paperback)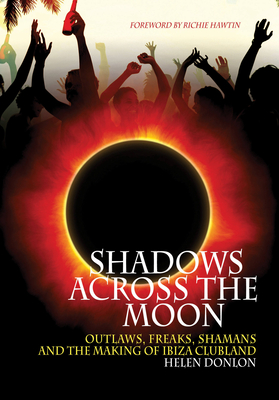 $19.95

Usually Ships in 1-5 Days
Description
---
Once a fabled pirate garrison, the island of Ibiza gained its reputation as a countercultural hotbed of adventure seeking bohemian dropouts during the 20th century. Eventually this crossroads of experimental musicians, "hippie trail" travelers, and tourists looking to party turned Ibiza into the epicenter of electronic music that it is today.

Pioneering electronic music DJs from around the world make the island their home over the summer season, attracting an equally international party community. Eco tourists and nature lovers seeking the particular pleasures of Ibiza also flock in annually, as do a crucial contingent of island faithfuls who return year after year to this tiny, charismatic, and insubordinate Mediterranean hub to live the Ibiza "experience" that goes way beyond the parties. 

With a foreword by Richie Hawtin, the world's leading electronic artist and DJ, Shadows Across the Moon explores the social and cultural history of Ibiza and its nocturnal playgrounds. It is the first and only book to cover the entire fascinating and unique history of dance and counterculture in Ibiza, and vividly describes the artists, sunset drummers, shamans, DJs, outlaws, psychedelic evangelists, politicians and hippie organizers who gradually shaped the island's party landscape into the hugely influential nexus it is today.
About the Author
---
Helen Donlon has worked for twenty years as an independent international literary agent. A former resident of the island who worked as an arts and clubland correspondent there, she has conducted numerous interviews over time with key Ibiza players including Richie Hawtin, Carl Cox, Rose The Snakewoman, Dubfire, Luciano, Pete Gooding, Alfredo, Jenny Fabian, Lenny Ibizarre, Pete Tong, Tina Cutler, and Mike Pickering; musicians such as George Clinton, Youth, and Jean-Michel Jarre; filmmakers Terry Gilliam and Bill Forsyth; as well as Pink Floyd cover designer Aubrey Powell, island historian Martin Davies, Manumission cult figure Johnny Golden, and many others.
Richie Hawtin is a Canadian electronic musician and DJ. An influential figure during the second wave of Detroit techno in the 1990s, he is best known for his work as Plastikman and his ENTER. events in Ibiza and around the world.