Living Dangerously in Korea: The Western Experience 1900-1950 (Paperback)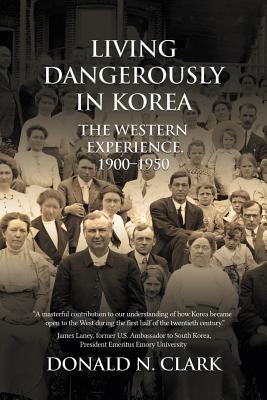 $24.99

Usually Ships in 1-5 Days
(This book cannot be returned.)
Description
---
Korea was "discovered" by the West after World War II when it became a flashpoint in the Cold War. Before the war, however, it was home to many hundreds of Westerners who experienced life there under Japanese colonial rule. These included missionaries who opened Korea as a field for evangelism, education, and medicine; speculators who risked much and reaped riches from mining concessions; and diplomats who tried to keep them neutral, even as the Japanese forced them out of business on the eve of the Pacific War.
In the first part of the book, the author reconstructs the foreign community and highlights the role of Americans in particular as participants in Korean history, bringing vividly to life the lives and suffering and triumphs of the expatriate community in Korea, especially the missionaries. In the second part of the book, the author presents the altered circumstances of American military occupation after 1945 and the consequences of the Americans' assuming a role not unlike the one that had been played earlier by the colonial Japanese.
By telling the lives and experiences of Westerners, the author highlights the major historical events of modern Korean history. Accounts of foreigners in the Independence Movement and during the period of militarization in the 1930s shed new light on what Japanese colonial rule meant to the Korean people. Similarly, Western experiences in Korea in the 1940s amount to a commentary on the way Korea was divided and the events that led inexorably to the ordeal of the Korean War.
The stories recounted in this extraordinary book, highlighted by more than sixty photographs, are a valuable commentary on Korea's early modernization and the consequences of the Korean War as it set the stage for Korea's relations with the world in the late twentieth-early twenty-first centuries.