The Path of Thorns (Paperback)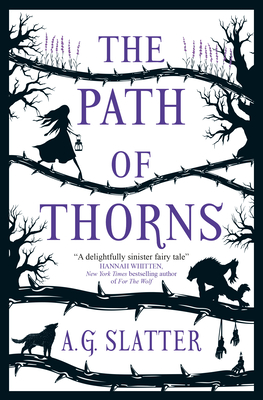 Staff Reviews
---
Keeping secrets is not typically in the job description for a governess, but for Asher Todd, secrets will get her into and keep her at the Morwood Estate. Asher knew when she took the job that she would have to make time to carry out her own agenda, but what she didn't realize was how her new relationships could influence the plot of revenge she set out to accomplish. Family ties and a promise made to a ghost intertwine to craft a tale that you will not be able to put down.
-Clare
— From
Clare's Recs
Description
---
A lush and twisted dark fairy tale suffused with witchcraft, dark secrets and bitter revenge from the award-winning author. Exquisite, haunting and at times brutal, readers of Naomi Novik and Erin Morgenstern will be entranced.

Asher Todd comes to live with the mysterious Morwood family as a governess to their children. Asher knows little about being a governess but she is skilled in botany and herbcraft, and perhaps more than that. And she has secrets of her own, dark and terrible – and Morwood is a house that eats secrets. With a monstrous revenge in mind, Asher plans to make it choke. However, she becomes fond of her charges, of the people of the Tarn, and she begins to wonder if she will be able to execute her plan – and who will suffer most if she does. But as the ghosts of her past become harder to control, Asher realises she has no choice.

From the award-winning author of All the Murmuring Bones, dark magic, retribution and twisted family secrets combine to weave a bewitching and addictive tale.
About the Author
---
Angela Slatter has won a World Fantasy Award, a British Fantasy Award, a Ditmar, an Australian Shadows Award and six Aurealis Awards for her short stories. She has an MA and a PhD in Creative Writing, is a graduate of Clarion South 2009 and the Tin House Summer Writers Workshop 2006. Angela's short stories have appeared in many Best Of anthologies, and her work has been translated into many languages. She teaches creative writing and lives in Brisbane, Australia.

Praise For…
---
Praise for The Path of Thorns

"...a dark and engrossing fairy tale with an engaging protagonist and compelling secrets lying underneath the surface" - Oprah Daily, Top 25 Fantasy Books of 2022

"As atmospheric and uber-gothic as The Path of Thorns is, there's humor too. Slatter delivers it all in a gorgeously written, deeply dark, deliciously rich, and magical package." - Paula Guran, Locus Magazine

"An absorbing, captivating tale" - SFX

​"​I'm a huge fan of the "morally grey character seeks revenge but struggles with growing positive sentiments toward their enemy" trope, and the addition of furious ghosts driving on this mission is just… chef's kiss!​"​ - Tor.com

​"A​s she expertly demonstrates with The Path of Thorns, she knows when to reveal key plot information and when to hold back. It's a balancing act that many a writer falls afoul of, but which Slatter pulls off with Olympic-level ease.​... I'll read anything she writes" - Locus​

"Boasting an unflinchingly morally gray heroine and all the grit and nuanced political awareness of Naomi Novik's Spinning Silver or Ava Reid's The Wolf and the Woodsman, this is a truly enthralling fantasy."  -Publishers Weekly
 
"A delightfully sinister fairy tale full of dark rituals, reluctant romance, and revenge served bitterly cold, The Path of Thorns is a modern classic."
Hannah Whitten, New York Times bestselling author of For The Wolf
 
"In this spellbinding tale, love is a dark and fractured thing. The Path of Thorns dares you to enter a world where there are no heroes, lies are the currency of the wronged and characters will pay any price to get their revenge. Slatter spins a mesmerising story, whose pace never falters and which kept me reading long into the night. A brilliantly assured modern fairy tale."
Lucy Holland, bestselling author of Sistersong

"The perfect Gothic fairy tale, full of darkness and danger seething beneath an idyllic surface."
A.C. Wise, author of Wendy, Darling  

"The Path of Thorns is a gothic masterpiece – rich and dark, with enough twists and turns to keep you reading late into the night. A spellbinding, memorable novel."
Juliet Marillier, author of the Blackthorn & Grim and Warrior Bards series
 
"The Path of Thorns is ferocious and filled with monstrous women who neither seek forgiveness for what they are, nor want anything less than what is owed to them. There are no good people here, no real heroes. Instead, we have people who will not be silenced, not by the world, not even by death. The Path of Thorns is a glorious, bloody, unflinching book." Cassandra Khaw, USA Today bestselling author of Nothing But Blackened Teeth
 
"The Path of Thorns is beautiful and vicious. Although it is a ruthless, Gothic tale, bright and bitter as poison, cold as a crypt, its chinks are stopped against the bleakest winds with deft, jewel-toned tales, and at its bruised heart, it is as loving and warm as a wolf curled around her cubs."
Kathleen Jennings, British Fantasy Award-winning author of Flyaway and World Fantasy Award-winning illustrator

"If you love gothic stories with a dash of morally grey characters, light romance, dark family secrets and a touch of magic, this is for you!"
Ash-and-books


"An ultimately hopeful fantasy that horrified or saddened me in moments but always held me in its thrall."
The Naptime Writer


"The stories told within the stories and the muddled histories give a sense of weight and depth, and I loved every moment I was in the Sourdough world. I think you will, too."
Girl Who Reads

"A highly entertaining read, with plenty of twists to keep you on your toes."
A Bookish Type

"Delicious and dark... It's the novel's setting, the corridors, bedrooms, parlours, and inhabitants of Morwood Grange, that drip with gothic intent."  - Ian Mond, Locus Magazine

"The Path of Thorns is an interesting Gothic fantasy that will appeal to fans of Victorian London and magic." Layton's Book Reviews