Three Stories About Ghosts (Paperback)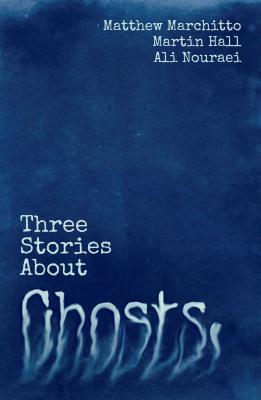 Description
---
Three standalone novellas, telling three chilling ghost stories, by three of the finest new voices in fiction.

A full-time medium and part-time cook is recruited by the nightmarish Boneman to hunt down and destroy a monster…

Two children of warring houses, in a city-state ruled by the noble houses' long-dead ancestors, fall in love…

In a hidden college in America, a man and the shade of his wife seek out the answers behind her death…
About the Author
---
Martin Hall is a Scottish writer who has worked on the 7th Sea, Savage Worlds, and Edge of Midnight roleplaying games. An archivist, historian, and qualified inquisitor, Martin finds his inspiration in the past. He writes fantasy stories, and loves using magic or technology to bend history out of shape. Figuratively speaking. Martin lives in Aberdeenshire with his wife and three children.

Matthew Marchitto lives in Montreal, where he spends his time creating fantasy worlds both bizarre and unsettling. His favourite stories are those that can convey a lot with a little. He has self-published two novellas, Moon Breaker and The Horned Scarab, and is currently working on an epic fantasy novel.

Ali Nouraei is a Persian-British writer who blends history, philosophical debate, and cultural paradigms from East and West in his writing. He is a qualified Barrister, a practising Mediator, and has written fiction for fifteen years. His passions include history, literature, and cake. He tweets as @AliNouraei.