Bite Size: A Denver Center for the Performing Arts Off-Center Anthology of Micro Plays by Colorado Playwrights (Paperback)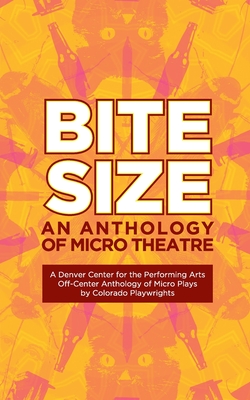 $17.95

Usually Ships in 1-5 Days
Description
---
NAMED WESTWORD'S BEST IMMERSIVE THEATRICAL PERFORMANCE
The rules were...it had to be written by a Colorado resident, no longer than 15 minutes, and related to books. This was the gauntlet that Denver Center for the Performing Arts's Off-Center threw down to Colorado playwrights.
Chosen from a pool of 200+ submissions, five short plays were at the center of a first-of-its-kind showcase in Denver: an evening of experiential micro theatre produced by DCPA Off-Center, and staged in tiny spaces at northwest Denver's beloved indie bookstore, BookBar. A compilation of original works featuring storylines ranging from quirky to momentous, Bite Size includes the five performed micro plays plus five more of the judge favorites:
A Pocket Full of Dandelions by Kristen Adele Calhoun
Holy Couch by Edith Weiss
Marginalia by Jeffrey Neuman
Outside the Room by Theatre Artibus, Grapefruit Lab + Larry Mitchell
Toxoplasmosis by Sean Michael Cummings
Something to Read at the End of the World by Maureen Biermann
The F Word by Claire Caviglia
The Missing Piece by Christina Miller + Addie Levinsky
The Side of the Room by Dakota Hill
Malum by Ashley Rice
With poetry by Denver poet, activist and speaker Theo E.J. Wilson
This evocative anthology is both a must-read for theater buffs and a delightful memento for those who enjoyed the performances in person.