Delicate Condition (Hardcover)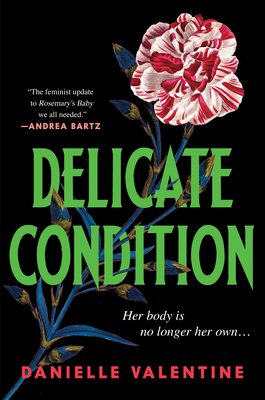 List Price: $27.99
Our Price: $25.19
(Save: $2.80 10%)
Usually Ships in 1-5 Days
Description
---
Hush little baby, don't say a word…
A GOOD MORNING AMERICA BUZZ PICK!
As seen in People, Vanity Fair, Entertainment Weekly, USA Today, Shondaland, Goodreads, and more!
…Mama's going to show you the horrors she's endured.
Anna Alcott is desperate to have a family. But as she tries to balance her increasingly public life as an indie actress with a grueling IVF journey, she starts to suspect that someone is going to great lengths to make sure that never happens. Crucial medicines are lost. Appointments get swapped without her knowledge. Cryptic warnings have her jumping at shadows. And despite everything she's gone through to make this pregnancy a reality, not even her husband is willing to believe that someone is playing twisted games with her.
Then her doctor tells her she's had a miscarriage—except Anna's convinced she's still pregnant despite everything the grave-faced men around her claim. She can feel the baby moving inside her, can see the strain it's taking on her weakening body. Vague warnings become direct threats as someone stalks her through the bleak ghost town of the snowy Hamptons. As her symptoms and sense of danger grow ever more horrifying, Anna can't help but wonder what exactly she's carrying inside of her…and why no one will listen when she says something is horribly, painfully wrong.
DELICATE CONDITION IS:
"A twisty, page-turner with unsettling details and crackling writing that's also a timely critique of sexism in modern medicine." —Andrea Bartz, New York Times bestselling author of We Were Never Here
"A spooky, devour-in-one-sitting story that's guaranteed to have everyone talking."—Leah Konen, author of You Should Have Told Me
"A frightening, propulsive read brimming with brutal truths about motherhood, autonomy, and the everyday horror of not being believed. This twisty horror thriller will have you guessing until the staggering end." —Rachel Harrison, National Bestselling author of Cackle and Such Sharp teeth
"Beautifully written, unbearably tense, and deeply scary. A modern fairy tale that asks what we'd be willing to sacrifice for the thing we want most." —Katie Gutierrez, National Bestselling author of More Than You'll Ever Know
Praise For…
---
"[A] truly excellent thriller." — Rolling Stone

"Readers will devour the book to find out what's going on...[the] ending, with an interesting twist, comes out of nowhere." — Booklist, STARRED review

"A fast-paced, chilling, perfect-for-spooky-season thriller...I promise the ending will leave you breathless." — Condé Nast Traveler

"Twisty, wicked, and as dark as it gets." — Scary Mommy

"Unflinching…Valentine successfully mines pregnancy's horrors for dramatic effect while condemning condescension toward, and ignorance of, women's struggles with fertility and childbearing. It adds up to a fiercely feminist millennial heir to Rosemary's Baby." — Publishers Weekly

"Delicate Condition is the feminist update to Rosemary's Baby we all needed—a twisty, page-turner with unsettling details and crackling writing that's also a timely critique of sexism in modern medicine." — Andrea Bartz, New York Times bestselling author of We Were Never Here

"A visceral rallying cry against the horrors of medical gaslighting, our culture's indifference to birthing people's pain, and the complete terror of creating and sustaining life—Delicate Condition is beautifully written, unbearably tense, and deeply scary. A modern fairy tale that asks what we'd be willing to sacrifice for the thing we want most. Danielle Valentine will sit on my shelf beside Julia Fine, Jessamine Chan, and Rachel Yoder--writers who remind us of the monster inside every mother." — Katie Gutierrez, bestselling author of More Than You'll Ever Know

"A propulsive modern update on classic horror with a clever ending that lets no one off the hook." — Anne Heltzel, author of Just Like Mother

"A frightening, propulsive read brimming with brutal truths about motherhood, autonomy, and the everyday horror of not being believed. This twisty horror thriller will have you guessing until the staggering end." — Rachel Harrison, National Bestselling author of Cackle and Such Sharp Teeth

"Heartbreakingly visceral, eerie and intense, reading Delicate Condition is feeling, with every new turn of the page, what it's like for your body to no longer be your own. A masterful musing on the horrors of pregnancy, loss and what it means to be a woman when the medical world fails you. A spooky, devour-in-one-sitting story that's guaranteed to have everyone talking." — Leah Konen, author of You Should Have Told Me

"Both disturbing and unrelentingly captivating, Delicate Condition grabbed me and didn't let go until its final page." — Darcy Coates, USA Today bestselling author

"A darkly visceral and magically evocative novel. You won't be able to put this one down until you've absorbed every last terrifying word." — Sarah Lawton, author of All The Little Things

"An absolute cracker of a read, one to be read by all women, everywhere. I could not put it down." — Lisa Hall, author of Between You and Me

"Pitch black horror meets smart psychological thriller in this fantastically moreish debut. I devoured it, feeling simultaneously sick and thrilled. And that ending... just perfect." — SJI Holliday, author of The Deaths of December

"Fabulously original. A deeply unsettling read that plays on women's darkest fears of pregnancy." — Gemma Rogers, author of The Secret

"A timely, terrifying, heartfelt thriller. I devoured it in one sitting." — Chris Whitaker, bestselling author of We Begin at the End

"Both a scathing indictment of the treatment of women by medical professionals and a breathless thriller, Delicate Condition paints an unyielding and heart-wrenching portrait of pregnancy that reaches like a clawed hand inside your chest. I could not put it down." — Katrina Monroe, author of Graveyard of Lost Children

"So many reader emotions, I didn't know who to trust; if anyone! Delicate Condition is a thriller, a horror, a mystery and it's lingering in my mind, an aftereffect of a chilling read!" — J.M. Hewitt, author of The Life She Wants

"What a thrilling, visceral read. So dark, and very fast paced." — Heather Darwent, author of The Things We Do to Our Friends