The Last Party: A Novel (Paperback)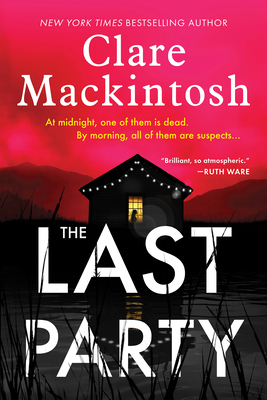 $16.99

Usually Ships in 1-5 Days
Description
---
"Wicked fun, devilishly clever, with echoes of Agatha Christie." —Patricia Cornwell, #1 New York Times bestselling author
At midnight, one of them is dead. By morning, all of them are suspects.
It's the party to end all parties….but not everyone is here to celebrate.
On New Year's Eve, Rhys Lloyd has a house full of guests. His vacation homes on Mirror Lake are a success, and he's generously invited the village to drink champagne with their wealthy new neighbors.
But by midnight, Rhys will be floating dead in the freezing waters of the lake.
On New Year's Day, Ffion Morgan has a village full of suspects. The tiny community is her home, so the suspects are her neighbors, friends and family—and Ffion has her own secrets to protect.
With a lie uncovered at every turn, soon the question isn't who wanted Rhys dead…but who finally killed him.
In a village with this many secrets, murder is just the beginning.
"Brilliant, so atmospheric....I fell in love with the courageous, complicated detective Ffion Morgan and I think readers will too." —Ruth Ware, New York Times bestselling author of The It Girl
Praise For…
---
"The writing is superb. Wicked fun, devilishly clever, with echoes of Agatha Christie. This is a party you won't want to miss." — Patricia Cornwell, #1 New York Times bestselling author

"Brilliant, so atmospheric….I fell in love with the courageous, complicated detective Ffion Morgan and I think readers will too." — Ruth Ware, New York Times bestselling author of One by One

"A superb blend of psychological thriller and police procedural...A gripping portrait of two fractured people merges with believable plot twists, and the author perfectly captures the ennui of a small town where gossip can destroy lives. Mackintosh consistently entertains.
" — Publishers Weekly, STARRED review

"Layers of historical and social context deepen the allure of this icy murder mystery set in North Wales...Come to meet the interestingly dysfunctional characters; stay to cheer them on with a full heart." — Kirkus Reviews

"Like the TV series Broadchurch and the novels of Ann Cleeves, this wonderful novel takes the reader?through twists and turns, and red herrings aplenty?deep within a community. Crime fiction is a whole lot better now that DC Ffion Morgan has arrived.
" — First Clue

Hands down the best closed cast mystery I've read in years! Clues and suspects fill every page as two detectives search for the killer of a former music celebrity on a lake that borders England and Wales. Readers will adore the cast of characters and never guess whodunnit! Clare Mackintosh is absolutely brilliant.

"I loved everything about The Last Party. Taut, pacey and so atmospheric with brilliantly executed twists and wonderfully written characters. DC Ffion Morgan is my new favorite detective. An absolute triumph." — Claire Douglas, author of The Couple at No. 9

"Superb. A compelling murder mystery told with warmth, humor and enough red herrings to keep even the most seasoned crime reader guessing." — C.L. Taylor, author of Sleep

"Expertly plotted and relentlessly gripping, a perfectly executed murder mystery. The whip-sharp and deeply likeable Ffion leads the investigation, introducing us to a cast of brilliantly realized suspects. I loved every page." — Lucy Clarke, author of One of the Girls

"Clare Mackintosh is just getting better and better with every book. This is a wonderfully assured and gripping read." — Peter James, creator of DS Roy Grace

"Whipsmart dialogue, droll observation, great characters and some very nasty business make this another standout from Mackintosh." — Linwood Barclay, author of Elevator Pitch

"Detectives Leo and Ffion make a storming debut in this twisty, cleverly-layered tale of worlds colliding." — Belinda Bauer, author of Snap

"Her best yet. A picturesque setting, wonderful cast and a pair of detectives you'll love. Plus I guarantee you'll never guess whodunnit." — Mark Edwards, author of Here to Stay