The Lost Van Gogh: A Novel (Paperback)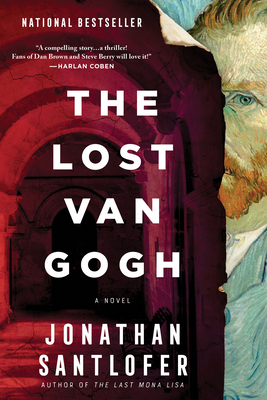 $16.99

Coming Soon - Available for Pre-Order Now
Staff Reviews
---
AVAIL. 1/2/24
What a perfect novel to be reading while I was visiting Amsterdam… the canals, the bicycles, the art work. The Lost Van Gogh by Jonathan Santlofer is not only about a search for Van Gogh's last portrait but also delves into the whereabouts of Nazi-looted art and the repatriation efforts of these valuable works. How prophetic Santlofer was with his subject matter as Van Gogh's art continues to appear in the news - a recent return of a stolen painting and the discoveries of paintings found under other paintings. Pay attention to everyone who comes across Luke and Alex's path; no one is who they appear to be.
- MINDY
— From
Mindy's Recs
Description
---
"Ingeniously plotted, irresistibly readable, brimming with inside information about the high-stakes art world of theft, forgery, and murder...Also included are brilliantly rendered drawings by the author, who is as accomplished an artist as he is a writer of suspense thrillers." —Joyce Carol Oates
From the author of the much-praised The Last Mona Lisa comes another thrilling story of masterpieces, masterminds, and mystery. 
For years, there have been whispers that, before his death, Van Gogh completed a final self-portrait. Curators and art historians have savored this rumor, hoping it could illuminate some of the troubled artist's many secrets, but even they have to concede that the missing painting is likely lost forever.
But when Luke Perrone, artist and great-grandson of the man who stole the Mona Lisa, and Alexis Verde, daughter of a notorious art thief, discover what may be the missing portrait, they are drawn into a most epic art puzzles. When only days later the painting disappears again, they are reunited with INTERPOL agent John Washington Smith in a dangerous and deadly search that will not only expose secrets of the artist's last days but draws them into one of history's darkest eras.
Beneath the paint and canvas, beneath the beauty and the legend, the artwork has become linked with something evil, something that continues to flourish on the dark web and on the shadiest corridors of the underground art world.
Alternating between Luke Perrone's perilous hunt for the painting, and a history of stolen art and stolen lives, The Lost Van Gogh is an intricately layered historical thriller perfect for fans of The Last Mona Lisa and The Night Portrait.
Praise For…
---
"Ingeniously plotted, irresistibly readable, brimming with inside information about the high-stakes art world of theft, forgery, and murder, Jonathan Santlofer's The Lost Van Gogh tracks the history of a missing self-portrait by Van Gogh against the background of the notorious Nazi campaign against "degenerate art." Also included are brilliantly rendered drawings by the author, who is as accomplished an artist as he is a writer of suspense thrillers." — Joyce Carol Oates

"Packed with international artworld intrigue and utterly delicious plot-twists, Santlofer keeps readers riveted in this intelligent and wonderfully textured thriller." — John Searles, New York Times bestselling author of Her Last Affair and Help for the Haunted

"Perfectly paced and plotted, The Lost Van Gogh seamlessly weaves together a mystery of unrelenting suspense with a fascinating tale about art and the dangerously criminal culture that surrounds it. A terrific read—one that only Jonathan Santlofer could have written!" — Alafair Burke, New York Times bestselling author

"The Lost Van Gogh is a can't miss novel of unforgettable suspense. Santlofer masterfully blends his art world expertise with a game of obsessions, razor-sharp characterization and thrilling prose to create a novel unlike any other—a riveting mystery that explores the weight of family and high-stakes art theft." — Alex Segura, bestselling author of Secret Identity

"The Lost Van Gogh is a kaleidoscope—a globetrotting thriller, a lesson in art history, a reminder of a crime against humanity that will never be expunged, but most of all a tremendously entertaining read." — Joseph Finder, New York Times bestselling author of House on Fire

"Beauty and horror are wonderfully contrasted by Santlofer, both in the sad life of van Gogh compared to the incandescent art he produced, and in the clash of the love of art and the pursuit of wealth that takes advantage of that passion. Details of post-impressionist art and busting of myths around van Gogh (he wasn't unknown as an artist during his life) are bonuses." — First Clue

"Santlofer offers sympathetic glimpses into Van Gogh's life and puzzling death and the French Resistance's valiant efforts to save Paris' treasures as the Nazis' systematically looted art belonging to Jewish collectors, stolen works still found in world-class museums. Illustrated with Santlofer's drawings, this is a wholly engrossing, historically illuminating, and thought-provoking art thriller." — Booklist

"The latest art thriller from Santlofer has historic European locations and appealing characters chasing down art stolen by horrible people...Give this novel to art enthusiasts, mystery lovers, and fans of Daniel Silva and Dan Brown." — Library Journal

"The relationship between Luke, who's the great-grandson of a man who stole the Mona Lisa, and Alexis, daughter of a famous art thief, is rich and fascinating—the novel soars when they're at the center." — Publishers Weekly