Hostage: A Novel (Hardcover)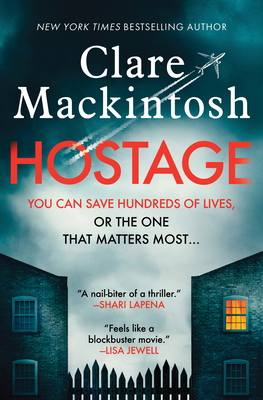 $26.99

Usually Ships in 1-5 Days
Staff Reviews
---
A cop, a babysitter and an innocent five-year old - at home. A flight attendant with some "questionable " passengers - on board Flight 79. Wait! What did I just read?! Just when I thought I figured it all out, I got hit with a one-two punch ending. Be prepared to flip back through the pages of HOSTAGE to affirm all those twists and turns of a true thriller.
- MINDY
— From
Mindy's Recs
Description
---
"Feels like a blockbuster movie."—Lisa Jewell, #1 New York Times bestselling author of Then She Was Gone
"Mackintosh is a pro...the final scene in the book almost made me sick as I read it. I mean that as a compliment of the highest order."—The New York Times
You can save hundreds of lives. Or the one that matters most…
From New York Times bestselling author Clare Mackintosh comes a claustrophobic thriller set over 20 hours on-board the inaugural nonstop flight from London to Sydney.
Mina is trying to focus on her job as a flight attendant, not the problems with her five-year-old daughter back home, or the fissures in her marriage. But the plane has barely taken off when Mina receives a chilling note from an anonymous passenger, someone intent on ensuring the plane never reaches its destination: "The following instructions will save your daughter's life..."
Someone needs Mina's assistance and knows exactly how to make her comply.
When one passenger is killed and then another, Mina knows she must act. But which lives does she save: Her passengers…or her own daughter and husband who are in grave distress back at home?
It's twenty hours to landing. A lot can happen in twenty hours.
For fans of the locked-room mystery of One by One and the heart-stopping tension The Last Flight, Hostage is an explosively addictive thriller about one flight attendant and the agonizing decision that will change her life—and the lives of everyone on-board—forever.
Praise for Hostage:
"A banger of a book with a truly agonizing 'what would you do?'"
—Ruth Ware, #1 New York Times bestselling author of One by One
"Hypnotically good. Should be a hit, could be a classic…"
—Lee Child, #1 New York Times bestselling author of the Jack Reacher series
"Fiendishly clever."
—Lisa Gardner, #1 New York Times bestselling author of Before She Disappeared
"A propulsive read."
—Karin Slaughter, New York Times bestselling author of The Silent Wife
"A nail-biter of a thriller."
—Shari Lapena, New York Times bestselling author of The Couple Next Door
Praise For…
---
"The airborne equivalent of a classic country house mystery...Surprising twists propel the story to an unexpected finale." — Publishers Weekly, STARRED review

"Mackintosh is a pro...the final scene in the book almost made me sick as I read it. I mean that as a compliment of the highest order." — New York Times

"It felt like watching a blockbuster movie; edge of seat, nail biting, propulsive, compulsive, thrilling and just so beautifully done." — Lisa Jewell, #1 New York Times bestselling author of Then She Was Gone

"Hypnotically good. Should be a hit, could be a classic..." — Lee Child, #1 New York Times bestselling author

"Fiendishly clever. Mackintosh takes domestic suspense to new heights in this tale of a kidnapped child, hijacked plane, and two parents' desperate fight to save their family." — Lisa Gardner, #1 New York Times bestselling author

"A propulsive read—Hostage will have you questioning 'What would you do?' at every turn." — Karin Slaughter, New York Times bestselling author of The Silent Wife

"A nail-biter of a thriller with an unexpected gut-punch at the end—a fantastic read!" — Shari Lapena, New York Times bestselling author of The End of Her

"A mind-blowing read that questions everything you know about somebody. A triumph!" — Sandie Jones, New York Times bestselling author of The Other Woman

"Hostage is one of the summer's must-reads, but you'll want to enjoy it with your tray table locked and your armchair in the full upright position, anchored firmly to the floor." — AirMail

"Written by New York Times bestselling author Clare Mackintosh, Hostage focuses on Mina, a flight attendant, who gets an anonymous message warning her to comply with directions or risk her daughter's life. When passengers start dying, she has to start making some life-shattering decisions." — Zibby Owens for Good Morning America

"If you're looking for a thriller that never lets up on the tension, then look no further than Hostage by Clare Mackintosh." — POPSUGAR

"Mackintosh has filled Hostage with fear, panic, and excitement, and jam-packed it with action. In addition, she has included bits of smart social commentary on prejudice and discrimination, extremism, and the assumptions we make about those around us. This is a true edge-of-your-seat suspense thriller that is not to be missed." — The Nerd Daily

"A banger of a book with a truly agonising 'what would you do?'" — Ruth Ware, #1 New York Times bestselling author