The Mystery of Mrs. Christie: A Novel (Paperback)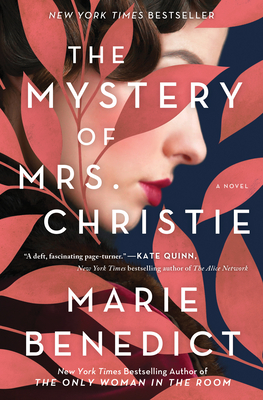 Staff Reviews
---
Marie Benedict's The Mystery of Mrs. Christie is based on an actual event - the disappearance of mystery writer Agatha Christie for eleven days in 1926. Benedict cleverly meshes two time periods - 1912, the writing of "the manuscript" as well as Agatha's early life with former aviator/Lt. Archie Christie, through to 1926, the year of her disappearance - until they are one. As she successfully accomplishes in her prior novels, Benedict brings to life the historical period of the novel through language, details and ambience of the times. As "we are all unreliable narrators of ourselves," then what becomes the truth of Agatha's disappearance, reappearance and the deceptive relationship with her husband?
- MINDY
— From
Mindy's Recs
January 2021 Indie Next List
---
"A delightful novel! While we will never know what happened to Agatha Christie during her 1926 disappearance, Marie Benedict has provided us with a compelling possibility. Keeping the reader guessing until the end, this is historical fiction that everyone is going to love!"
— Stefanie Lynn, The Kennett Bookhouse, Kennett Square, PA
Description
---
THE INSTANT NEW YORK TIMES AND USA TODAY BESTSELLER!
"A stunning story... The ending is ingenious, and it's possible that Benedict has brought to life the most plausible explanation for why Christie disappeared for 11 days in 1926."—The Washington Post
The New York Times and USA Today bestselling author of The Only Woman in the Room returns with a thrilling reconstruction of one of the most notorious events in literary history: Agatha Christie's mysterious 11-day disappearance in 1926.
In December 1926, Agatha Christie goes missing. Investigators find her empty car on the edge of a deep, gloomy pond, the only clues some tire tracks nearby and a fur coat left in the car—strange for a frigid night. Her World War I veteran husband and her daughter have no knowledge of her whereabouts, and England unleashes an unprecedented manhunt to find the up-and-coming mystery author. Eleven days later, she reappears, just as mysteriously as she disappeared, claiming amnesia and providing no explanations for her time away.
The puzzle of those missing eleven days has persisted. With her trademark historical fiction exploration into the shadows of the past, acclaimed author Marie Benedict brings us into the world of Agatha Christie, imagining why such a brilliant woman would find herself at the center of such murky historical mysteries.
What is real, and what is mystery? What role did her unfaithful husband play, and what was he not telling investigators?
Agatha Christie novels have withstood the test of time, due in no small part to Christie's masterful storytelling and clever mind that may never be matched, but Agatha Christie's untold history offers perhaps her greatest mystery of all.
Fans of The Secrets We Kept, The Lions of Fifth Avenue, and The Alice Network will enjoy this riveting saga of literary history, suspense, and love gone wrong.
Other Bestselling Historical Fiction from Marie Benedict:
Lady Clementine
The Only Woman in the Room
Carnegie's Maid
The Other Einstein
About the Author
---
Marie Benedictis a lawyer with more than ten years' experience as a litigator at two of the country's premier law firms and for Fortune 500 companies. She is a magna cum laude graduate of Boston College with a focus in history and art history and a cum laude graduate of the Boston University School of Law. Marie, the author of The Other Einstein, Carnegie's Maid, The Only Woman in the Room, and Lady Clementine, views herself as an archaeologist of sorts, telling the untold stories of women. She lives in Pittsburgh with her family.
Praise For…
---
"Brilliantly constructed and richly detailed, THE MYSTERY OF MRS. CHRISTIE is both a twisty mystery and immersive portrait of the domestic and professional life of the legendary Agatha Christie. This is a must-read for fans of Agatha Christie." — Chanel Cleeton, New York Times & USA Today bestselling Author of The Last Train to Key West and Next Year in Havana

"Agatha Christie went missing for 11 days in 1926 and this novel tells Christie's story, building the events of her life and her disappearance to a crescendo right at the end of the book. This is an amazing story of one woman who subjugated herself to the benefit of her husband and the detriment of herself and her daughter, but eventually stood up for herself to the benefit of all who read her novels. I loved this book." — Beth Carpenter, The Country Bookshop (Southern Pines, NC)

"Whether you love Agatha Christie novels or a good historical mystery, this book is for you! Did you know Agatha Christie disappeared for 11 days in 1926? That disappearance has never been explained but Marie Benedict does her usual amazing job of delving into the hidden corners of the past to come up with a satisfying explanation that is just as much of a puzzle-box mystery as Agatha Christie would have written herself." — Carrie Deming, The Dog Eared Book (Palmyra, NY)

"THE MYSTERY OF MRS. CHRISTIE is part domestic thriller, part Golden Age mystery-- and all Marie Benedict! An absorbing and immersive plunge into the disturbed private life of one of the world's most beloved authors, who confounded police, journalists, and generations of biographers when she disappeared from her home, like something out of one of her own novels. But you just might find a solution to the puzzle here.... (No Belgian detectives required. Knitting spinsters sold separately.)" — Lauren Willig, New York Times bestselling author

"A winning whodunit from the thrilling life story of the mistress of whodunits, Agatha Christie herself, THE MYSTERY OF MRS CHRISTIE is a deft, fascinating page-turner replete with richly drawn characters and plot twists that would stump Hercule Poirot." — Kate Quinn, New York Times bestselling author of The Alice Network, The Huntress, and the upcoming The Rose Code

"What a read! Agatha Christie is so beautifully drawn, you could easily believe Benedict knew her intimately. Each page uncovers fresh layers of pain, rage, genius and suffering, culminating with a firecracker of an ending. I loved it." — Stuart Turton, bestselling author of The Devil and the Dark Water and The 7 ½ Deaths of Evelyn Hardcastle

"With twists, surprises, and an ending that packs a punch in more ways than one, THE MYSTERY OF MRS. CHRISTIE is a whodunit infinitely worthy of its famous heroine. Benedict's exploration of Agatha Christie's life and mysterious disappearance will have book club discussions running overtime. Quite simply, I loved it!" — Lisa Wingate, #1 New York Times bestselling author of Before We Were Yours and The Book of Lost Friends

"It's not a whodunit or even a whydunit, but a sort of how-the-hell-did-he-do-it? As Christie's first and best-known detective, Hercule Poirot, might say: Patience. All will be revealed." — The Los Angeles Times

"[A] gripping historical fiction tale of true mystery." — Good Morning America

"Benedict shines as a suspense writer." — Christian Science Monitor

"If you're an ardent Agatha Christie fan, don't miss The Mystery of Mrs. Christie." — HuffPost

"[A] clever reconstruction of Agatha Christie's mysterious 11-day disappearance in 1926." — E! News

"With elements of a classic mystery novel, The Mystery of Mrs. Christie is gripping, making it possible to believe that, with her real-life disappearance, Agatha Christie surpassed herself and pulled off the perfect, unsolvable mystery." — Foreword Reviews

"[Marie Benedict] keeps the reader guessing: Which narrator is reliable? Who is the real villain? A compelling portrait of a marriage gone desperately sour." — Kirkus Reviews

"The clever premise here is that Christie vanished deliberately so as to ensnare Archie in a trap as payback for his infidelities... the story makes for good fun." — Publishers Weekly

"Mystery lovers, especially fans of Christie's works, as well as those who enjoy period pieces, will find this an engrossing fictional answer to a real historical mystery." — Library Journal

"Girl power advocates will find satisfaction in the solution she crafts to her man problem." — Booklist