Her Hidden Genius: A Novel (Hardcover)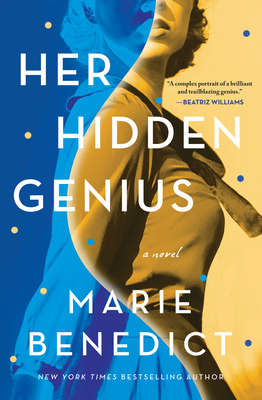 Staff Reviews
---
Another historic female figure is brought to the forefront in Marie Benedict's sixth novel, Her Hidden Genius. Rosalind Franklin, biophysics professional in the 1950s, spends her short life traveling between Paris and London, undertaking research on the "molecular structure of DNA." One caveat persists: a female working in a male-dominated field - who can be trusted with Rosalind's scientific experiments and who will receive the credit on the creation and transmission of genetic data. Delve into Her Hidden Genius and enjoy Benedict's always entertaining blend of fact and fiction.
- MINDY
— From
Mindy's Recs
Description
---
"Brings to life Franklin's grit and spirit...an important contribution to the historical record." —The Washington Post
The new novel from the New York Times bestselling author of The Mystery of Mrs. Christie!
She changed the world with her discovery. Three men took the credit.
Rosalind Franklin has always been an outsider—brilliant, but different. Whether working at the laboratory she adored in Paris or toiling at a university in London, she feels closest to the science, those unchanging laws of physics and chemistry that guide her experiments. When she is assigned to work on DNA, she believes she can unearth its secrets.
Rosalind knows if she just takes one more X-ray picture—one more after thousands—she can unlock the building blocks of life. Never again will she have to listen to her colleagues complain about her, especially Maurice Wilkins who'd rather conspire about genetics with James Watson and Francis Crick than work alongside her.
Then it finally happens—the double helix structure of DNA reveals itself to her with perfect clarity. But what unfolds next, Rosalind could have never predicted.
Marie Benedict's powerful new novel shines a light on a woman who sacrificed her life to discover the nature of our very DNA, a woman whose world-changing contributions were hidden by the men around her but whose relentless drive advanced our understanding of humankind.
Also By Marie Benedict:
The Other Einstein
Carnegie's Maid
The Only Woman in the Room
Lady Clementine
The Mystery of Mrs. Christie
About the Author
---
Marie Benedictis a lawyer with more than ten years' experience as a litigator at two of the country's premier law firms and for Fortune 500 companies. She is a magna cum laude graduate of Boston College with a focus in history and art history and a cum laude graduate of the Boston University School of Law. Marie, the author of The Other Einstein, Carnegie's Maid, The Only Woman in the Room, and Lady Clementine, views herself as an archaeologist of sorts, telling the untold stories of women. She lives in Pittsburgh with her family.
Praise For…
---
"Benedict brings to life Franklin's grit and spirit...an important contribution to the historical record." — The Washington Post

"A compelling look at the scientist's impressive and all-too-short life…there are no easy answers in Her Hidden Genius, but there is much food for thought." — Science magazine

"Marie Benedict brings human warmth and in-depth science to a novel on the life of Rosalind Franklin…Benedict is terrific at showing how male exclusivity operates and has researched the science in magnificent depth…A humanly as well as scientifically engaging read." — Financial Times

"Benedict again illuminates an overlooked female historical figure, accessibly highlighting Franklin's scientific achievements and also depicting some of her personal life." — Library Journal

"You've read about the men who lied and took credit for her experiments and discovery in your science books. But this is not their story; it's hers." — BookRiot

"Benedict adeptly brings forward another accomplished, intriguing, and unjustly overlooked or oversimplified real-life woman in a welcoming and involving historical novel." — Booklist

"Benedict breaks down the science for the reader while bringing to life a woman whose incredible discoveries were hidden by the men around her." — SheReads

"Marie Benedict has a remarkable talent for forcing open the cracks of history to draw extraordinary women into the sunlight. In Her Hidden Genius, Benedict weaves together molecular biology and human psychology to bring vivid life to Rosalind Franklin, whose discovery of DNA's exquisite double-helix structure takes on the narrative intensity of a thriller. Fans of historical fiction will devour this complex portrait of a brilliant and trailblazing genius and the price she paid to advance the frontiers of science." — Beatriz Williams, New York Times bestselling author of Our Woman in Moscow

"Marie Benedict does it again, pulling another brilliant woman out of the shadows of history into an illuminating portrait for posterity. This eye-opening novel deftly explores the life of Rosalind Franklin—the wronged heroine of world-changing discoveries—and her singular pursuit of science. Educational and astounding. Brava!" — Stephanie Dray, New York Times bestselling author of America's First Daughter

"What an important book this is. Through Marie Benedict's trademark insight and immersive historical research, Rosalind Franklin and her extraordinary legacy are beautifully restored to public recognition. So brilliantly sketched is this brilliant woman that you will find yourself both infuriated by the misogynistic battles she faces and inspired by the intellectual achievements she manages to secure regardless. A must-read for anyone interested in science or forgotten heroines." — Kate Moore, New York Times bestselling author of The Radium Girls and The Woman They Could Not Silence

"Impeccably researched and beautifully written, Her Hidden Genius is a remarkable story of strength, perseverance, and achievement. Marie Benedict once again shines a light on women in science, vibrantly bringing Rosalind Franklin's genius to life in the pages of her novel." — Jillian Cantor, USA Today bestselling author of Half Life

"Marie Benedict has given us an immense gift: a peek into the inner world of Rosalind Franklin, one of the most brilliant—and overlooked—scientists of her time. Her Hidden Genius describes the discovery of DNA in exquisite beauty, weaving the structure of the double helix effortlessly into a poignant and compelling narrative. This is Benedict's best work yet, a book that will break your heart, rattle your expectations, and ultimately leave you stunned by the sacrifices one woman made for science." — Nathalia Holt, New York Times bestselling author of Rise of the Rocket Girls