We Were Restless Things (Hardcover)
It's our 23rd Anniversary! Enjoy 23% discount on all titles purchased in-store!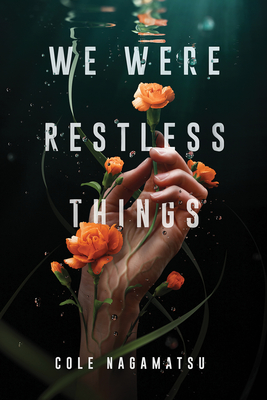 $17.99
Usually Ships in 1-5 Days
Staff Reviews
---
When Link is found dead in the middle of a forest, the town of Twin Cities is shocked and dismayed. Stranger still … Link drowned … where there was no lake. Noemi Amato knows more than she is letting on but who would believe her if she told the police or Link's family that a lake appears and disappears in the woods? When Noemi begins to receive ghostly texts from someone claiming to be Link she can't help but wonder if someone is messing with her or if Link really is communicating with her from the grave. Noemi is convinced she is supposed to explore the lake and returns to the woods with her friends determined to try and find out what happened the night Link died. A dangerous game of cat and mouse plays out with Noemi, her friends, and an eerie presence in the woods that governs the lake. The stakes are high - Noemi must trade her freedom for the life of her friends.
-Chrissy
— From
Chrissy's Recs
Description
---
From debut author Cole Nagamatsu comes an atmospheric contemporary fantasy about three teens coming of age in the wake of a mysterious death.
Last summer, Link Miller drowned on dry land in the woods, miles away from the nearest body of water. His death was ruled a strange accident, and in the months since, his friends and family have struggled to make sense of it. But Link's close friend Noemi Amato knows the truth: Link drowned in an impossible lake that only she can find. And what's more, someone claiming to be Link has been contacting her, warning Noemi to stay out of the forest.
As these secrets become too heavy for Noemi to shoulder on her own, she turns to Jonas, her new housemate, and Amberlyn, Link's younger sister. All three are trying to find their place--and together, they start to unravel the truth: about themselves, about the world, and about what happened to Link.
Unfolding over a year and told through multiple POVs and a dream journal, We Were Restless Things explores the ways society shapes our reality, how we can learn to love ourselves and others, and the incredible power of our own desires.
A great pick for readers who want:
YA contemporary books with touches of YA fantasy
Modern ghost stories and fairytales
Young adult LGBT books with an asexual character