The Arctic Fury: A Novel (Paperback)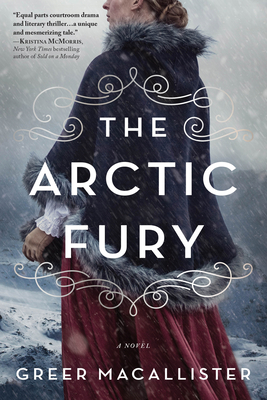 $16.99

Usually Ships in 1-5 Days
Staff Reviews
---
Upon a patron's request, Virginia Reeve takes on the task of leading an all-woman expedition to find a team of male explorers, lost in the Arctic. One caveat: Virginia is most experienced as a guide on land through the wilderness, but by sea through the frigid Arctic tundra? The journey begins and a year and a half later, Virginia is standing trial in a Boston courtroom for murder and kidnapping. Two captivating narratives appear in Greer Macallister's 19th century tale of courage, tenacity and survival. For fans of Marie Benedict's historic novels: add Greer Macallister's to your list!
- MINDY
— From
Mindy's Recs
December 2020 Indie Next List
---
"Greer Macallister has a proven track record for writing excellent historical fiction. She is at the top of her game in The Arctic Fury, in which a dozen women are recruited to journey to the frozen tundra in hopes of finding a lost expedition. Facing a brutal climate, clashing wills, misogyny, and death, these women rise to accept a challenge that no male explorer has been able to accomplish. Macallister has created strong, memorable characters facing unfathomable conditions and choices. Alternating between the arctic journey and a riveting courtroom drama, The Arctic Fury is a non-stop thrill."
— Pamela Klinger-Horn, Excelsior Bay Books, Excelsior, MN
Description
---
A dozen women join a secret 1850s Arctic expedition—and a sensational murder trial unfolds when some of them don't come back.
Eccentric Lady Jane Franklin makes an outlandish offer to adventurer Virginia Reeve: take a dozen women, trek into the Arctic, and find her husband's lost expedition. Four parties have failed to find him, and Lady Franklin wants a radical new approach: put the women in charge.
A year later, Virginia stands trial for murder. Survivors of the expedition willing to publicly support her sit in the front row. There are only five. What happened out there on the ice?
Set against the unforgiving backdrop of one of the world's most inhospitable locations, USA Today bestselling author Greer Macallister uses the true story of Lady Jane Franklin's tireless attempts to find her husband's lost expedition as a jumping-off point to spin a tale of bravery, intrigue, perseverance and hope.
About the Author
---
Raised in the Midwest, Greer Macallister is a novelist, poet, short story writer, and playwright who earned her MFA in Creative Writing from American University. Her debut novel The Magician's Lie was a USA Today bestseller, an Indie Next pick, and a Target Book Club selection. It has been optioned for film by Jessica Chastain's Freckle Films. Her novel Girl In Disguise, also an Indie Next pick, received a starred review from Publishers Weekly, which called it "a well-told, superb story." She lives with her family in Washington, DC.
Praise For…
---
"I loved this book. It kept me in suspense and when it was over I wanted to read it again... I recommend this for people who aren't averse to ambiguity, who like stories of adventure and exploration as well as intersectional examinations of women's lives, and to people who like mystery/thrillers." — Smart Bitches, Trashy Books

"One of the most famous traveling disasters in history serves as the wireframe for a story that skillfully weaves adventure, classism, eccentricity, sexism, suspense, and racism into a spellbinding thriller." — The Amazon Book Review

"[An] adventurous historical mystery... Moving from the present to the past and from one woman's voice to another, Macallister captures the suspenseful journey from all angles as readers uncover the truth about what really happened out on the ice." — Booklist

"Written in prose as crisp as an Arctic summer...THE ARCTIC FURY is a tribute to one young woman's leadership and genius for survival." — BookPage

"Macallister examines sexism and racism in the pre-Civil War United States, and builds a compelling mosaic of a story... Readers who love historical fiction, strong women and unusual settings will find all three--as well as a couple of truly inventive twists." — Shelf Awareness

"An unforgiving, snow-dazzling landscape, a cast of extraordinary, fierce women, and a nail-biting courtroom drama that wrecked my nails makes this historical gem unputdownable!" — Kim Michele Richardson, New York Times bestselling author of The Book Woman of Troublesome Creek

"Suffused with a spine-tingling aura of dread, Macallister's complex, riveting historical novel The Arctic Fury includes tantalizing glimpses of nineteenth-century women's lives… a captivating window into the ways that race, class, and sexual and gender identities interact within the broad, shared social category of womanhood." — Foreword Reviews, Starred Review

"Engaging and difficult to put down… Macallister's writing is powerful, and she concocts a gripping story with strong, very human characterizations." — New York Journal of Books

"In her enthralling new novel, The Arctic Fury, Greer Macallister takes her readers on a thrilling, if arduous, journey to the Arctic north, alongside Virginia Reeve and her all female expedition in a quest to find the ships of a lost explorer. Through alternating glimpses into the voyage itself and the murder trial afterwards, the enterprise and its secrets -- both tantalizing and terrorizing -- reveal themselves in turn, sweeping readers along until they reach the story's spell-binding conclusion. A captivating look at the manner in which the "truth" is formed by the lens through which it is perceived, a lens formed by time, place, and views on women." — Marie Benedict, New York Times bestselling author of The Only Woman in the Room, The Other Einstein, Lady Clementine and Carnegie's Maid

"In her latest gem of a historical novel, Greer Macallister once again entrances the reader with her gift of riveting prose and finely crafted suspense. Equal parts courtroom drama and literary thriller, The Arctic Fury bears all the twists and turns of a runaway train, barreling through an expedition as harsh and unrelenting as the Arctic north itself. The diverse cast of female survivors, while haunted by impossible choices, serves as a timely reminder of the hope born in darkness and the enduring bonds of sisterhood. A remarkably unique and mesmerizing tale." — Kristina McMorris, New York Times bestselling author of Sold on a Monday

"Macallister writes women like no one else, her characters' strengths and shortcomings vividly magnified by the societies and even geography that would diminish them… an effortless braiding of two timelines." — Washington City Paper

"A love letter to adventurous women, unlikely friendships, and finding possibilities in a bleak, unforgiving wilderness." — Chicago Review of Books

"Greer Macallister plunges readers into a wild, frozen landscape as beautiful and awesome as it is punishing and lethal. This is a story of thirteen intrepid women, each with her own reasons for setting out on an ill-fated expedition, as well as a story of the secrets we carry, the pasts we try to outrun, and the bonds of friendship that save and inspire us to carry on. Macallister writes with rich historic detail and sumptuous prose, exploring new ground as she takes readers on this Arctic journey." — Allison Pataki, New York Times bestselling author of The Queen's Fortune