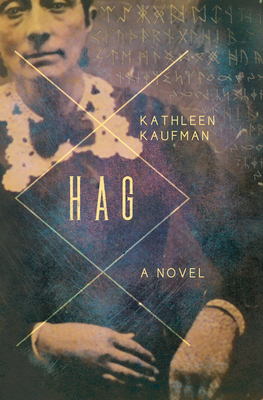 Staff Reviews
---
Certain women have been endowed with mysterious and sometimes frightening gifts for centuries. Hag builds on the Gaelic myth of Cailleach, a divine hag. Cailleach bears daughters with powerful gifts, and these daughters bring their daughters into the world, preserving their clan and powers. However, as generations pass, the daughters become removed from their origins and remember little of the purpose for their gifts. Alternating with lore is the contemporary story of Alice Kyles – a descendant many times removed from Cailleach – whose gift of seeing the future is sublimated even as her daughter, Coira, is learning to harness unimaginable forces. Hag is a mystical story of strong feminine power, perfect for fans of The Power and Circe.
- Cindy
— From
Cindy's Recs 2
Description
---
At this, the Cailleach would release a single drop of indigo dye onto the topmost layer. See, she would tell her daughter. See? It bleeds through the topmost path and onto the next. In this way, so many things from the next world touch ours, and our world touches the layer beneath.
High above the sea, hidden in the rocky Scottish cliffs, something stirs. An ancient matriarchal power has set the wheels in motion for a long line of descendants. But to what end?
Spanning centuries of human history, these daughters of the lowland hag, the Cailleach, must navigate a world filled with superstition, hatred, violence, pestilence, and death to find their purpose. With pasts half remembered and destinies denied, the daughters of Cailleach are women with uncanny, and often feared, abilities to heal, to see the future and to cause great destruction and pain when threatened. With each passing generation, the waves crash against the shore, and the Cailleach awaits a homecoming that will bring everything full circle.
Upcoming Events
Event date:

Tue, 02/25/2020 - 10:30am

Event date:

Mon, 03/02/2020 - 10:30am

Event date:

Mon, 03/09/2020 - 10:30am