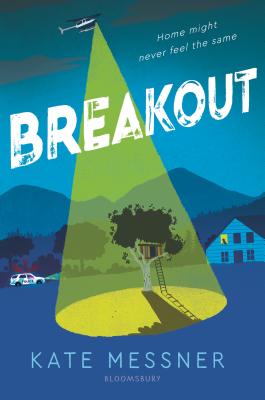 $17.99
Email or call for price/availability
Staff Reviews
---
Nora Tucker is ready for a normal summer with cookouts, popsicles, and swimming. This vision gets thrown out the window when two inmates from the high security prison break out and are hiding nearby. Nora, a budding investigative journalist, charges herself with the task of collecting materials and reporting on the prison break for the time capsule being buried later that summer. With everyone on lockdown, it is up to Nora, Lizzie, and Elidee, the new girl who feels less than welcome, to report the facts and possibly crack the case! Breakout is a must read that will have you looking over your shoulder for the inmates in your own backyard!
- Clare
— From
Clare's Recs
Description
---
Told in letters, poems, text messages, news stories, and comics--a series of documents Nora collects for the Wolf Creek Community Time Capsule Project--Breakout is a thrilling story that will leave readers thinking about who's really welcome in the places we call home.

Nora Tucker is looking forward to summer vacation in Wolf Creek--two months of swimming, popsicles, and brushing up on her journalism skills for the school paper. But when two inmates break out of the town's maximum security prison, everything changes. Doors are locked, helicopters fly over the woods, and police patrol the school grounds. Worst of all, everyone is on edge, and fear brings out the worst in some people Nora has known her whole life. Even if the inmates are caught, she worries that home might never feel the same.

A Mighty Girl Best Book of the Year
About the Author
---
Kate Messner is a New York Times–bestselling author of multiple children's books, among them Over and Under the Pond, Up in the Garden and Down in the Dirt, The Brilliant Deep, and How to Read a Story. Before becoming a full-time writer, Kate was a TV news reporter as well as an educator who spent fifteen years teaching middle school English. These days, she splits her time between Lake Champlain and southwest Florida and is trying to summit all forty-six Adirondack High Peaks in between book deadlines.
Praise For…
---
"An effective, authentically wrought look at how fear and ignorance can lead people to treat those of different races or from different places with suspicion. Messner shines a light on the ways that people are blind to their own privilege while quick to judge others." - starred review, Publishers Weekly

"An accessible format and a unique focus on contemporary issues of criminal justice and racial bias make this an essential purchase." - starred review, School Library Journal

"A sensitive coming-of-age tale about waking up to injustice and where that knowledge can lead." - Kirkus Reviews

"Timely and relevant." - The Horn Book Magazine

"Successfully balances excitement with larger issues, ripe for classroom discussion." - Booklist

"Authentic . . . . Middle school worries and social issues skillfully woven into a moving, hopeful, STEM-related tale." - starred review, Kirkus Reviews on THE EXACT LOCATION OF HOME

"Vivid characters and situations, along with clear, simple writing and plotting, make this an accessible and enlightening read. A gentle but truthful look at poverty and homelessness." - starred review, School Library Journal on THE EXACT LOCATION OF HOME

"An empathetic, beautiful, magical, fiercely necessary book that stares unflinchingly at the very real challenges contemporary kids face and gently assures them they are not alone. Kate Messner gives her readers a story to cherish." - Anne Ursu, author of BREADCRUMBS and THE REAL BOY on THE SEVENTH WISH

"Hopeful, empathetic, and unusually enlightening." - starred review, Kirkus Reviews on THE SEVENTH WISH

"Rich and daring . . . As she did in All the Answers, Messner lightens a heavy theme with a bit of magic." - Publishers Weekly on THE SEVENTH WISH

"It's no surprise that Kate Messner's magic pen could write a charming, moving, funny, and ultimately very surprising story about a magic pencil!" - Wendy Mass, New York Times best selling author of 11 BIRTHDAYS on ALL THE ANSWERS

"Will appeal to Wendy Mass fans as well as those who love Messner's previous novels." - School Library Journal on ALL THE ANSWERS