The Search Party: A Novel (Paperback)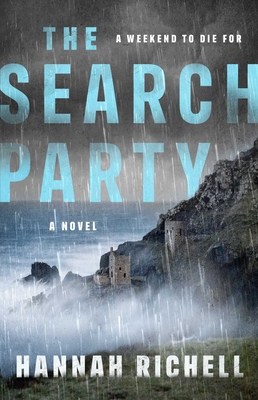 $17.99

Coming Soon - Available for Pre-Order Now
Staff Reviews
---
AVAIL. 1/16/24
Three families are invited to Max and Annie Kingsley's glamping settlement by the cliffs of Cornwall. An injury occurred but to whom? What did twelve-year-old Kip do? What happened to Jim's arm? Hannah Richell cleverly keeps us in suspense by setting up scene after scene, but not revealing the character who is affected. Throughout the weekend, emotions, secrets and disappointments come alive while a seething storm is brewing out at sea. The Search Party is the perfect atmospheric mystery that will keep you guessing until the last page!
- MINDY
— From
Mindy's Recs
Description
---
A spellbinding locked-room mystery about a glamping trip gone horribly wrong when a powerful storm leaves the participants stranded and forced to confront long-held secrets and a shocking disappearance.

Max and Annie Kingsley have left the London rat race with their twelve-year-old son to set up a glamping site in the wilds of Cornwall. Eager for a dry run ahead of their opening, they invite three old university friends and their families for a long-needed reunion. But the festivities soon go awry as tensions arise between the children (and subsequently their parents), explosive secrets come to light, and a sudden storm moves in, cutting them off from help as one in the group disappears.

Moving between the police investigation, a hospital room, and the catastrophic weekend, The Search Party is a propulsive and twisty destination thriller about the tenuous bonds of friendship and the lengths parents will go to protect their children—perfect for fans of Ruth Ware and Lucy Foley.
About the Author
---
Hannah Richell was born in Kent and spent her childhood years in Buckinghamshire and Canada. After graduating from the University of Nottingham, she worked in the book publishing and film industries in both London and Sydney. She is a dual citizen of Great Britain and Australia, and currently lives in the South West of England with her family. Richell is the author of international bestsellers Secrets of the Tides (2012), The Shadow Year (2014), The Peacock Summer (2019) and The River Home (2020). Her work has been translated into twenty-one languages.
Praise For…
---
"Richell cleverly plants numerous red herrings and skillfully juggles the multiple points of view and timelines to build white-knuckled suspense and keep readers guessing…an engrossing, twisty read."
—Kirkus

"[Richell] cleverly doles out key details in increments…a diverting puzzle."
—Publisher's Weekly

"Filled with atmosphere and a closed-set mystery worthy of Agatha Christie, fans of Lucy Foley will love The Search Party!"
—Catherine McKenzie, author of Have You Seen Her and I'll Never Tell

"A glamping weekend for old friends on the rugged Cornish coast devolves into mayhem and murder in this deliciously sinuous thriller brimming with atmosphere. Hannah Richell is masterful, deploying white-knuckle pacing, pitch-perfect prose, and characters whose emotional depth is fully mined, making the twists feel maximally earned and resonant. Gripping, clever, and as enjoyable to curl up with as a Christie—I inhaled it in a day!"
—Jaclyn Goldis, author of The Chateau

"The Search Party pitches you forward from the first page, sending you rushing headlong towards its thrilling conclusion. I loved this novel for its multifaceted, multi-voiced take on a single weekend, and a satisfying and emotionally honest portrayal of what we see in others, and ourselves. Hannah Richell's first foray into the thriller genre is simply not to be missed!"
—Hayley Scrivenor, bestselling author of Dirt Creek

"The Search Party is a dexterous blend of best and worst case scenarios, a chillingly relatable journey into the unexpected. With her cast of expertly crafted characters, evocative setting and taut prose, Richell has written a standout page-turner, thoroughly gripping from start to finish. Fans of Lucy Foley and Sarah Pearse will not want to miss this."
—Anna Downes, internationally bestselling author of The Safe Place

"Hannah Richell's The Search Party is a compelling thriller told with real emotional insight and depth. It was a pleasure to be transported to the wildest edge of Cornwall and have a ringside seat as a group of old friends are pushed to their absolute limits. An absolute page-turner!"
—Lucy Clarke, author of One of the Girls

"Everything about this Cornish glamping thriller hooked me from the off. An atmospheric and ever-twisting read that's full of compassion and emotional intelligence. I loved it"
—Emylia Hall

"Hannah Richell was born to write thrillers. Twisty and adrenaline fuelled, I devoured this whip-smart novel set against a backdrop of remote Cornish cliffs. All the ingredients I love in a thriller - jealousy, revenge, lust and anger - simmer ominously beneath the surface before coming explosively to the fore. I was in equal parts agonised and satisfied when I turned the final page. Trust me, you will not be able to put this book down!"
—Ali Lowe

"Living the dream becomes a living nightmare. Richell's tense new destination thriller will make you wish you weren't here as friendships crumble and families fall apart on a glamping weekend gone wrong. A gripping and twisty plot laced with Richell's trademark deft feel for family dynamics sees the pages practically turn themselves."
—Kate Lord Brown