Camp Zero: A Novel (Hardcover)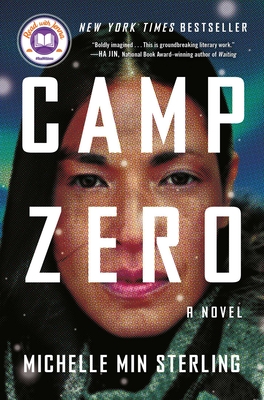 $28.00

Usually Ships in 1-5 Days
Staff Reviews
---
A book that becomes more and more relevant every passing day. In a frighteningly possible future where climate change has destroyed life as we know it, the powerful elite live in luxury while the rest of the population faces exploitation and displacement. Delve into this brutal world through three equally captivating points of view and uncover the secrets of Camp Zero, a mysterious building project in icy northern Canada that sits at the heart of this story. Don't let this book's slow build fool you - the storlines fall together seamlessly and culminate in an ending that will leave you shaken. Although a quick read, the characters and message of this story will stick with you long after the last page.
-Rachel
— From
Rachel's Recs
Description
---
INSTANT NEW YORK TIMES BESTSELLER

A Today Show #ReadwithJenna Book Club Pick

In a near-future northern settlement, the fates of a young woman, a professor, and a mysterious collective of researchers collide in this mesmerizing and transportive debut that "delivers its big ideas with suspense, endlessly surprising twists, and abundant heart" (Jessamine Chan, New York Times bestselling author).

In remote northern Canada, a team led by a visionary American architect is break­ing ground on a building project called Camp Zero, intended to be the beginning of a new way of life. A clever and determined young woman code-named Rose is offered a chance to join the Blooms, a group hired to entertain the men in camp—but her real mission is to secretly monitor the mercurial architect in charge. In return, she'll receive a home for her climate-displaced Korean immigrant mother and herself.

Rose quickly secures the trust of her target, only to discover that everyone has a hidden agenda, and nothing is as it seems. Through skill­fully braided perspectives, including those of a young professor longing to escape his wealthy family and an all-woman military research unit struggling for survival at a climate station, the fate of Camp Zero's inhabitants reaches a stunning crescendo.

Atmospheric, fiercely original, and utterly gripping, Camp Zero is an electrifying page-turner and a masterful exploration of who and what will survive in a warming world, and how falling in love and building community can be the most daring acts of all.
About the Author
---
Michelle Min Sterling was born in British Columbia, Canada, and now lives in Cambridge, Massachusetts. She teaches literature and writing at Berklee College of Music, and has held fellowships at Akademie Schloss Solitude, Banff Centre for Arts and Creativity, Vermont Studio Center, and the Virginia Center for the Creative Arts. Her writing has appeared in The Baffler and Joyland. Camp Zero is her first novel.
Praise For…
---
"Camp Zero is the thrilling, urgent feminist climate fiction that the world needs. With extraordinary world-building, captivating characters, and sharp commentary on climate change, technology, colonialism, capitalism, and the patriarchy, Michelle Min Sterling's remarkable debut delivers its big ideas with suspense, endlessly surprising twists, and abundant heart." —JESSAMINE CHAN, New York Times bestselling author of The School for Good Mothers

"Camp Zero is a sui generis novel, boldly imagined, intricately designed, and convincingly detailed. Though set in the near future, it resonates with a palpable sense of reality and with the deep insights into some dimensions of the human condition, such as migrations, the burden of the past, environmental destruction, gender inequality, self-recreation. Page by page, the prose shines with subtle verbal artistry. This is groundbreaking literary work." —HA JIN, National Book Award-winning author of Waiting

"In an equally tantalizing and terrifying tour de force, Michelle Min Sterling boldly remixes the realities of our present world, the danger we are in, and the fates we have settled for through a mesmerizing story of loyalty, deception, and ultimately love. Camp Zero's dark twists and bright turns left me breathless, hopeful, furious, and emboldened until the very end." —NANCY JOOYOUN KIM, New York Times bestselling author of The Last Story of Mina Lee

"Michelle Min Sterling reports back from the future in this fiercely imagined conjuring of the devastating impacts of our warming world. Alternately terrifying and enthralling, this is a propulsive read with touches of Blade Runner, even Fury Road's survival-is-everything pace and intensity where female strength is on delightful display. But even on its darkest pages, Camp Zero is infused with the conviction that the way out—if there is one—lies in old ideas like love, bravery, and shared community." —ERICA FERENCIK, author of Girl In Ice and The River at Night

"An exhilarating tale of survival set in a world of environmental decline, Camp Zero explores a future brimming with equal parts rage and resilience. Sterling's masterful debut transports readers to a frozen landscape where the intersections of class, gender, and climate change come to a head—and where women must rely on their own cunning to survive. This powerful, prescient story will haunt the reader's imagination long after the final page." —LAURA MAYLENE WALTER, author of Body of Stars

"[A] stunning debut . . . Sterling's future is close enough to the present to be entirely recognizable, underlining this cleverly constructed climate fiction mystery with palpable terror: this world feels like one many readers could see within their lifetimes. This should earn a place on shelves alongside Station Eleven and Annihilation." —Publishers Weekly, starred review

"The future Michelle Min Sterling imagines in Camp Zero is recognizably our own, if we do nothing to halt climate change: one in which the powerful find new and devastating ways to exploit both the earth and its people. But all is not as it seems. In a series of ingenious twists and increasingly tight connections, Sterling imagines how, in the chaos that ensues after the ice caps melt, our most marginalized brethren may gain a foothold to power. This is one of the best books I've read in a long time: it's mesmerizing, terrifying, and ultimately, hopeful." —CAROLINE WOODS, author of The Lunar Housewife

"Michelle Min Sterling has written a big, gutsy, and clear-eyed novel of the near future that neither lurches with dread nor swoons with false hope: it's a cold, hungry adventure story about the power of choice and the strength of solidarity. You won't be able to put it down." —SEAN MICHAELS, Giller Prize-winning author of Us Conductors

"Sterling vividly renders a harrowing near-future world ravaged by climate change while still offering hope through human connection and perseverance." —Booklist

"Brilliantly unsettling…Camp Zero is compelling dystopian cli-fi with three-dimensional characters—a perfect read for fans of Station Eleven, To Paradise, and The Handmaid's Tale. The ending leaves the way open for a sequel. Bring it on."—Shelf Awareness

"A gripping story about survival, with compelling characters and frightening plot twists that will keep you riveted."—Real Simple

"A smart setup . . . The book has a soul that generates momentum. It's committed to the bonds of family, the ones we are born into and the ones we choose, as a way forward in an increasingly chaotic world. A love letter to what communities of women can accomplish when they work in concert." —Kirkus Reviews

"A book to haunt your dreams as your world gets hotter. . . . Sterling brings considerable veracity to her all-too-realistic vision of the future . . . and to her insights into all of her characters. . . . [In Camp Zero] the suspense builds gradually, excruciatingly, as the various storylines begin to come together, as questions begin to be answered." —Toronto Star