Gotta Go!: TOON Level 2 (Hardcover)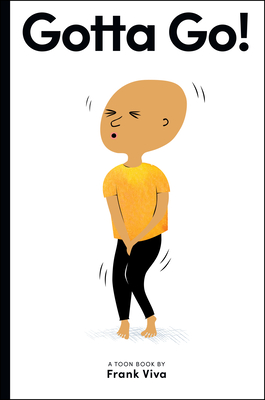 List Price: $18.99
Our Price: $17.09
(Save: $1.90 10%)
Description
---
Will Owen be left high and dry?

Owen should have listened but instead he's now squirming: he's just gotta go! Luckily for him, Mom and grampa are there to offer advice and show him silly tricks that can help flush the urge away. FRANK VIVA, the acclaimed designer and author of A Trip to the Bottom of the World with Mouse and Young Frank, Architect, doesn't mind getting his feet wet as he dives into what can be a scary topic for children and turns it into a hilarious and liberating romp.
About the Author
---
Frank Viva is an award-winning artist and designer who lives in Toronto with his family. Viva's other books include the New York Times Best Illustrated Children's Book selection Along a Long Road, the Parents' Choice Award winner A Long Way Away, and TOON's Cybils award-winning A Trip to the Bottom of the World with Mouse. His art has appeared in many places, including regularly on the cover of The New Yorker.
Praise For…
---
"A tour de force that gives new meaning to "Ooooh" and "Ahhh…" -- New York Times Book Review

"Something of a mini-masterpiece, the sort of thing that both you and your children will adore...the perfect book for those kids having trouble holding it in…a truly endearing and funny way to turn worries into giggles." -- Comicon

"Certain to resonate with young readers." -- Publishers Weekly

Selected as one of 6 Big Indie Books for Fall for Youth by Publishers Weekly

★"Wry, cool and spot-on….Charming… A perfect suggestion for read-alouds or one-on-one reading….A kid-friendly early reader graphic novel that hits all the right notes. You Gotta Go purchase for early elementary shelves." - School Library Journal STARRED review

"I cannot WAIT to get my hands on this! Frank Viva is a cool artist." -- Elizabeth Bird, A Fuse #8 Production, School Library Journal.com

Selected for Publishers Weekly's Early Reader Spotlight 

Selected as one of 10 titles featured in Kirkus Reviews' "Most Anticipated Picture Books Preview: "Another reminder of the importance of family….hilarious dances…a charming graphic novel for the youngest set."  — Kirkus Reviews

One of the 150 Most Anticipated Fall Books: "Funny—and comically instructive." — Kirkus Reviews

"Frank Viva's Gotta Go! Holds The Secrets For When You Need To Pee. Kids are always going to need to use the bathroom at inconvenient times. However, Frank Viva's Gotta Go! makes those moments easier for everyone involved by teaching kids the tools to ignore the urge through a fun package that's easy to read."   — How To Love Comics

"In this rollicking and appropriately goldenrod-washed comic, Viva assures readers that no one ever outgrows needing to go." — Publishers Weekly

"Frank Viva is always fresh and funny. Not talking down to anyone. A kind and whimsical spirit. One of a kind." — Maira Kalman

"This entertaining tale with all its squirmy, wiggly physical humor, marked by Viva's sleek, styled illustrations, also includes practical tips for children who have to go but aren't in a place in which to do so."  — Horn Book

"A hilarious and liberating romp….Unreservedly recommended." — Midwest Book Review

"Viva's stylized digital art shines in this picture book graphic novel hybrid." — Youth Services Book Review

"A lot of fun! I keep track of as many books as I can on this topic … a great fit for older kids…helpful and humorous and normalizes things that can be really embarrassing. The illustrations are great, as is the grandad/grandson relationship." MD, Educator, University of Maine