The Museum of Nothing (Hardcover)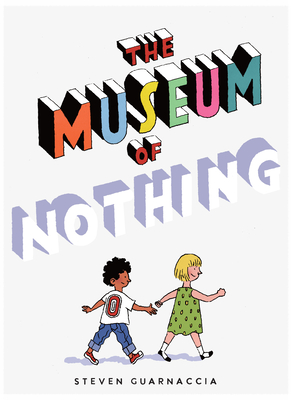 List Price: $18.99
Our Price: $17.09
(Save: $1.90 10%)
Description
---
Discover all the many ways that nothing is really something! This mind-bendingly clever picture book about a visit to the Museum of Nothing will have curious readers marveling and laughing along.

There is so much more to nothing than you think! Join Oona and Otto on a tour of the funny, fascinating Museum of Nothing in this imaginative read-aloud from noted designer Guarnaccia. This museum proudly displays every kind of nothing. There's the Hall of Holes (donut, button, black), the Zero Wing, the Nobody Room—where the Invisible Man is the star attraction—and more. With pages full of witty details to discover, this captivating book is perfect for curious kids ages 5-9 looking for their next big mind-bending adventure.
About the Author
---
Steven Guarnaccia is an illustrator and Professor Emeritus of Parsons School of Design. He was formerly Op-Ed art director of the New York Times. His work has appeared in major magazines and newspapers including the New York Times, Abitare, and Rolling Stone, and he has created murals for Disney and exhibition drawings for the Museum of Modern Art. He is the author of books on popular culture and design including Black and White and A Stiff Drink & A Close Shave. He has designed watches for Swatch and greeting cards for the Museum of Modern Art, won awards from the AIGA, the Art Directors Club, and the Bologna Book Fair and has had one-man shows internationally. His children's books include his fairy tales about design, The Three Bears: A Tale Moderne, The Three Little Pigs: An Architectural Tale and Cinderella: A Fashionable Tale.
Praise For…
---
One of the Most Astronishly Unconventional Children's Books of 2023 - Travis Jonker, 100 Scope Notes / SchoolLibraryJournal.com 

"Lively and appealing." — Mac Barnett, New York Times Book Review

"I didn't know a book about nothing could be so fun and suspenseful but it is! I love how the story subtly escalates even though "nothing" happens.... or does it?! I also think the use of color and white is pretty smart." — Jacque Izzo, Books Are Magic

★★★★"A book to be shared with all ages. Kids will appreciate the silliness and adults will appreciate some of the "in" jokes (Emily Dickinson's poem about being nobody). Put it with your read-a-louds for companionable giggles." — Youth Services Book Review

"White on White.  A Polar Bear in a Snowstorm.  Button holes.  Black holes.  At the museum of Nothing, there are exhibits of, well, nothing.  This clever picture book is sure to have curious kids finding nothing everywhere." - Angie Tally, The Country Bookshop

"Crisp ink and digitally colored illustrations include numerous cleverly embedded zeroes and letter Os to represent the concept of "nothing"; children will enjoy scouring the pages to locate them and may want to illustrate their own ideas about nothingness." — Kirkus Reviews

"Made me giggle....this book will activate kids' imaginations!" — Unleashing Readers

"An absolute delight! I will be recommending this fabulous picture book to all the kids and parents I see! Beautifully illustrated and intelligently written." – Clare Etheridge, Brentwood Public Library 

"Made me laugh. So creative. I loved all the representations of nothing. I would love to have students come up with more. Great hook to pair with Invisible things." – Vanessa Eyre, Librarian Granite Library 

"​​Extremely cute and full of the most clever little puns… fun to read with middle grades and then have them design a similar museum based on a number of their choice." – Erikka Sawdey, Pickerington Public Library 





17,0001,500,000