What Makes Us Human: An Artificial Intelligence Answers Life's Biggest Questions (Hardcover)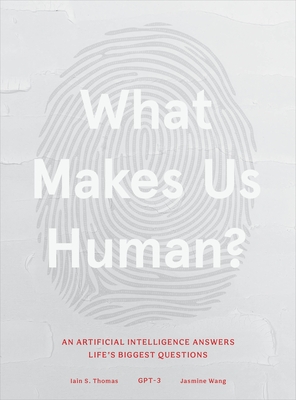 $24.99

Usually Ships in 1-5 Days
Description
---
A groundbreaking endeavor to explore human spirituality through the evolving technology of artificial intelligence

Why are we here? What does it mean to love? How do we overcome suffering? Is happiness truly possible?

For thousands of years, we have turned to the same beloved texts to explore these universal questions—from the Bible and the Tao Te Ching, to the poetry of Rumi and Sappho, to the words of modern-day mystics.

What if you could take all of the wisdom contained in these collective pages and, using the world's most advanced artificial intelligence, receive the answers?

To create What Makes Us Human?, internationally bestselling poet Iain S. Thomas and globally recognized prodigious researcher and innovator Jasmine Wang prompted the world's most advanced AI, GPT-3, with a wealth of humanity's most cherished works. Then they asked GPT-3 our most pressing questions about life.

Contained in this book are the conversations and exchanges that followed.

A bold and daring experiment, What Makes Us Human? is a contemporary exploration of spirituality that will inspire you, move you, and give you a new understanding of what makes us humans, humans.
About the Author
---
Iain S. Thomas is one of the world's most popular poets and is the bestselling creator and author of numerous books, including I Wrote This for You, an experimental and pioneering prose and photography project. He has spoken, toured, and read his work all over the world and appeared on panels at numerous conferences, including BookCon in New York and the Sharjah International Book Fair in the UAE. He lives in New York.

Jasmine Wang is a technologist and philosopher and is a 2020 Thiel Fellow and 2019 Interact Fellow. She has worked with the Partnership on AI, the Future of Humanity Institute, OpenAI, Microsoft Research, and the Montreal Institute for Learning Algorithms. She lives in New York.

GPT-3 is an artificial intelligence developed by OpenAI, a billion-dollar-funded research lab that explores the use of AI for the betterment of all humankind.
Praise For…
---
"utterly compelling and provocative, and cannot but be full of wisdom." —Lion's Roar

"surprising and refreshing wisdom here. It is a most interesting collaboration." —Spirituality & Practice

"This profoundly illuminating text on where we stand in the great arc of artificial intelligence is stunningly beautiful and inspired. A touching, nuanced, and beautiful reverie of poetic collaboration." —BT, GRAMMY®-nominated musician and technologist

"Iain S. Thomas and Jasmine Wang have striven to garner advice from a robot brain, expecting to receive mechanized platitudes—and yet these writers discover the soulfulness of a wise poet, who might someday walk beside us, perhaps even sprinting past us, on our hike up the slopes of Parnassus." —Christian Bök, experimental poet, author of Eunoia, and Griffin Poetry Prize winner