The Poet's House (Paperback)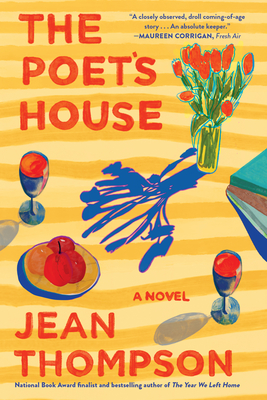 Staff Reviews
---
There has to be a sequel to The Poet's House! I want to know what the future holds for these colorful characters who all become connected through one writer, Viridian, an elderly poet. Starting an unfamiliar journey, Carla, her landscaper, tries to fit in with Viridian's entourage of poets, publishers and friends. Even the author turns poet as she cleverly interjects fitting poems throughout her prose. The Poet's House will leave you contemplating the growth of your own legacy and remind you of the many twists and turns one's life will take.
- MINDY
— From
Mindy's Recs
Description
---
In this warm and witty story, a young woman gets swept up in the rivalries and love affairs of a dramatic group of writers.​

Carla is stuck. In her twenties and working for a landscaper, she's been told she's on the wrong path by everyone—from her mom, who wants her to work at the hospital, to her boyfriend, who is dropping not-so-subtle hints that she should be doing something that matters.

­Then she is hired for a job at the home of Viridian, a lauded and lovely aging poet who introduces Carla to an eccentric circle of writers. At first she is perplexed by their predilection for reciting lines in conversation, the stories of their many liaisons, their endless wine-soaked nights. Soon, though, she becomes enamored with this entire world: with Viridian, whose reputation has been defined by her infamous affair with a male poet, Mathias; with Viridian's circle; and especially with the power of words, the "ache and hunger that can both be awakened and soothed by a poem," a hunger that Carla feels sharply. When a fight emerges over a vital cache of poems that Mathias wrote about Viridian, Carla gets drawn in. But how much will she sacrifice for a group that may or may not see her as one of their own?

A delightfully funny look at the art world—sometimes petty, sometimes transactional, sometimes transformative— ­The Poet's House is also a refreshingly candid story of finding one's way, with words as our lantern in the dark.
 
About the Author
---
Jean Thompson is the author of fourteen books of fiction, including the National Book Award finalist Who Do You Love, the NYT bestseller The Year We Left Home, and the NYT Notable Book Wide Blue Yonder. Her work has been published in the New Yorker, as well as dozens of other magazines, and anthologized in The Best American Short Stories and the Pushcart Prize. She has been the recipient of Guggenheim and National Endowment for the Arts fellowships, among other accolades, and has taught creative writing at the University of Illinois Urbana-Champaign, Reed College, Northwestern University, and many other colleges and universities.
Praise For…
---
"A closely observed, droll, coming-of-age story . . . An absolute keeper."—Maureen Corrigan, Fresh Air

"Wry, canny, and delectable . . . As a tribute to the soul-saving value of art, a cri de coeur for women striving to make authentic lives, and a pipeline of guidance from the elders to the emerging, The Poet's House offers many rooms, infinitely worth the tour."—The San Francisco Chronicle

"The brilliantly rendered mise-en-scène of quarrelsome, ego-ridden yet touchingly fragile poets and the literary entrepreneurs who circle around them makes a vivid backdrop for this classic coming-of-age tale. More thoughtful, elegantly written fiction in the classic realist tradition by the gifted Thompson."—Kirkus Reviews, starred review

"Ever insightful, imaginative, compassionate, and funny, Thompson is a virtuoso of thorny interactions between wholly realized characters rife with contradictions. And she is so in her element, bringing this richly dimensional book-anchored mise-en-scène to life with lacerating wit and rueful tenderness while adeptly interleaving a poet's long, covert battle against sexism and regret with the verdant tale of a young woman taking root in an unexpectedly sustaining realm."—Booklist, starred review

"A coming-of-age novel, a novel of manners (Jane Austen, make some room on that big bench, dear), a page-turning narrative with laugh-out-loud scenes, and ultimately a hopeful, affirming book about how words can stir the mystery in us, help us find ourselves, and maybe even make us, however reluctantly, bigger versions of ourselves. The Poet's House is a book I'll be recommending to my friends who are readers and even to those who are not, but who will, to be sure, fall in love with Carla, with her discoveries, and with that master storyteller, Jean Thompson."—Julia Alvarez, author of Afterlife

"Beautifully rendered with wry wit, unusual charm, and poignant insights."—The Christian Science Monitor

"A literary charmer . . . Amusing and true-to-life."—Marion Winik, The Minneapolis Star-Tribune

"Jean Thompson is a national treasure.  She's the kind of  writer who can make you laugh and cry at the same time, a consummate prose stylist whose work is full of insight and wisdom and a deadly keen eye for the foibles and self-deceptions of her characters. The Poet's House is yet another indelible masterpiece in her oeuvre."—Dan Chaon, author of Sleepwalk

"Charming . . . Part of the fun of The Poet's House is in its small details and memorable descriptions, but the biggest pleasures are Carla's evolution, the many well-drawn characters and subtle pokes at the competitiveness of the literary world."—BookPage

"Thompson's talents for immersive storytelling and sharp characters are on brilliant display, particularly in her portrayal of Carla's longing for something greater, and of Viridian's conflicted feelings about Mathias's work. The author's fans will savor this."—Publishers Weekly

"Jean Thompson makes hanging out with poets look like even more of a good time than one suspects, in real life, it might be. The Poet's House is terrific company: funny, poignant, and full of realistically quirky and original characters. A thoroughly enjoyable read."—Julie Schumacher, author of The Shakespeare Requirement