Red, White, and Black: Rescuing American History from Revisionists and Race Hustlers (Hardcover)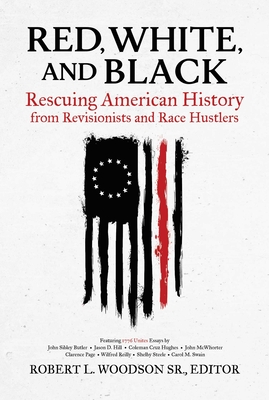 $28.00
Email or call for price/availability
Description
---
An indispensable corrective to the falsified version of black history presented by The 1619 Project, radical activists, and money-hungry "diversity consultants."

In the rush to redefine the place of black Americans in contemporary society, many radical activists and academics have mounted a campaign to destroy traditional American history and replace it with a politicized version that few would recognize. According to the new radical orthodoxy, the United States was founded as a racist nation—and everything that has happened throughout our history must be viewed through the lens of the systemic oppression of black people.

Rejecting this false narrative, a collection of the most prominent and respected black scholars and thinkers has come together to correct the record and tell the true story of black Americans in all its complexity, diversity of experience, and poignancy.

Collectively, they paint a vivid picture of black people living the grand American experience, however bumpy the road may be along the way. But rather than a people apart, blacks are woven into the united whole that makes this nation unique in history.

Featuring Essays by:

John Sibley Butler
Jason D. Hill
Coleman Cruz Hughes
John McWhorter
Clarence Page
Wilfred Reilly
Shelby Steele
Carol M. Swain

Dean Nelson
Charles Love
Rev. Corey Brook
Stephen L. Harris
Harold A. Black
Stephanie Deutsch
Yaya J. Fanusie
Ian Rowe
John Wood, Jr.
Joshua Mitchell
Robert Cherry
Rev. DeForest Black Soaries, Jr.
About the Author
---
Community activist Robert L. "Bob" Woodson has devoted his career to helping low-income people transcend their impoverished conditions. Woodson has used his own rise from poverty to assist him as the founder and president of the National Center for Neighborhood Enterprise (NCNE).

After working for the National Urban League, Woodson became a research fellow with the American Enterprise Institute (AEI), where he learned effective techniques for self-empowerment. Woodson left AEI in 1981 to create NCNE, a grassroots research and demonstration program emphasizing the importance of empowerment and self-management as effective approaches for ending poverty.

Woodson received a prestigious "Genius Grant" from the MacArthur Foundation in 1990. He sits on the boards of the American Association of Enterprise Zones, the Commission on National and Community Service, and the Commonwealth Foundation. Woodson has also written extensively on issues of poverty and empowerment including his books, Lessons From the Least of These and The Triumphs of Joseph: How Today's Community Healers are Reviving Our Streets and Neighborhoods. Woodson and his wife, Ellen, live in Silver Spring, Maryland. They have three children.