A Poison Like No Other: How Microplastics Corrupted Our Planet and Our Bodies (Hardcover)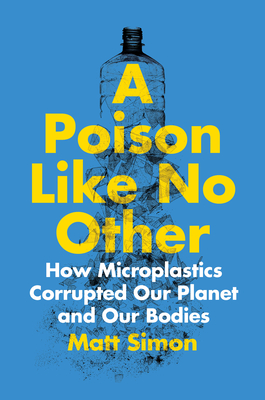 Description
---
"Informed, utterly blindsiding account." - Booklist, starred review

It's falling from the sky and in the air we breathe. It's in our food, our clothes, and our homes. It's microplastic and it's everywhere—including our own bodies. Scientists are just beginning to discover how these tiny particles threaten health, but the studies are alarming.
 
In A Poison Like No Other, Matt Simon reveals a whole new dimension to the plastic crisis, one even more disturbing than plastic bottles washing up on shores and grocery bags dumped in landfills. Dealing with discarded plastic is bad enough, but when it starts to break down, the real trouble begins. The very thing that makes plastic so useful and ubiquitous – its toughness – means it never really goes away. It just gets smaller and smaller: eventually small enough to enter your lungs or be absorbed by crops or penetrate a fish's muscle tissue before it becomes dinner.
 
Unlike other pollutants that are single elements or simple chemical compounds, microplastics represent a cocktail of toxicity: plastics contain at least 10,000 different chemicals. Those chemicals are linked to diseases from diabetes to hormone disruption to cancers.
 
A Poison Like No Other is the first book to fully explore this new dimension of the plastic crisis, following the intrepid scientists who travel to the ends of the earth and the bottom of the ocean to understand the consequences of our dependence on plastic. As Simon learns from these researchers, there is no easy fix. But we will never curb our plastic addiction until we begin to recognize the invisible particles all around us. 
 
About the Author
---
Matt Simon is a science journalist at Wired magazine, where he covers the environment, biology, and robotics. He's the author of two previous books, Plight of the Living Dead: What Real-Life Zombies Reveal About Our World—and Ourselves and The Wasp That Brainwashed the Caterpillar: Evolution's Most Unbelievable Solutions to Life's Biggest Problems. He enjoys long walks on the beach and trying not to think about all the microplastics there.
 
Praise For…
---
"Informed, utterly blindsiding account."
— Booklist
"This is a lucid, distressing look at a growing environmental concern."
— Publishers Weekly
"Journalist Matt Simon's urgent new book
A Poison Like No Other: How Microplastics Corrupted Our Planet and Our Bodies
is classified as environmental science but could comfortably be labeled as horror… densely reported; nearly every sentence is a harrowing, footnoted stat... isn't necessarily a fun read. But it is unforgettable."
— San Francisco Chronicle
"An urgent call to action aimed at curbing the introduction of microplastics into the environment."
— Kirkus Reviews
"Essential...shocking...Reading this book will fundamentally change your own relationship with plastic."
— Lloyd Alter
"Looks at how [plastics] all went wrong...It's an important book but a hard one to read..."
— Washington Independent Review of Books
"From the bottom of the ocean to the heights of Mount Everest, the author somehow manages to tell the story of this pervasive poison with engaging storytelling and powerful visual imagery. A single-use plastic bag will never look the same."
— The Verona Press
"An authoritative, unflinching account of how plastics built the modern world, then contaminated every corner of it. Simon is a sharp guide to the science of this slow-moving, often invisible catastrophe, the consequences of which are only just now beginning to be understood. This book disturbs, provokes, and delights. It is an urgent read."
— Megan Molteni, science writer, STAT
"Fascinating dive into a ubiquitous but under-the-radar pollutant. This book will change how you look at everything: your baby's toys, your favorite pants, and climate change policy. Throughout, Simon's jaunty writing will keep a wry smile on your face."
— Danielle Venton, science reporter, KQED
"Keeping up with the new science on microplastics is a full-time job for specialists. Thank goodness for Simon, who helps the rest of us understand the state of the science and what's at stake. This is a growing problem, and this book is a timely snapshot taken at a critical moment in the history of plastic pollution."
— Rebecca Altman, PhD, writer and environmental sociologist